All my weeks of late have been taper weeks. I've kind of lapsed into being a "weekend warrior" because of the OT, and how I decided to cope with it. Break walks and hold the line during the week. On the weekends have more active fun.
The good thing about Summer is that there are LOTS of activities to choose from. The sad thing about Summer is that you have to pick and choose. One person cannot be in multiple places at once. So, while I was out doing my Cornhusker State Games events, there was an "Uplifting Athletes" run down at Memorial Stadium that I had to bypass. And there was the annual Relay for Life that I had to miss, too... my kid sis SPINNINGJW represented the family at THAT important event.
Since I haven't mentioned it in a while... Kelsey progress... this past week they moved her to a local rehab facility, where she is receiving physical therapy and continuing her recovery. I have to believe that seeing her daughter the week of July 4th really spurred her recovery motivation strongly... and of course now that she's local, she sees the babe more often. Over the weekend, for the first time in a while, she posted FOR HERSELF on FaceBook, saying simply that she is doing well. The gratitude on the part of this whole family is immense. To those of you who have continued to pray through this: THANK YOU!
And speaking of family, that's how my weekend ended, with a family and friends birthday / pool party, in honor of one of my niece's 16th birthday a couple of weeks ago. We all had fun, and SPINNINGJW got up on the diving board to show us she still has what it takes, trying out a few dives for the first time in a couple of years, she says. Nowadays few pools support diving boards, due to liability risks, and for someone who loves to dive (as Jen does), this is a problem. Hard to find training venues if you're not an elite.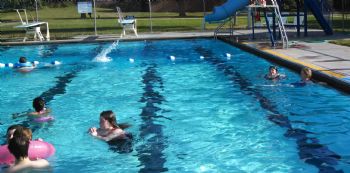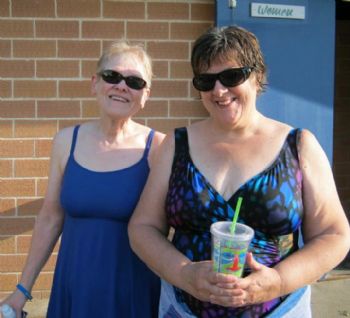 The second photo is proof I was there, taken by the mom of the niece. The other gal in the photo is a family friend who we say is "related by cat" because she adopted our dad's cat after he passed and no one else was able to take Mindy in.
And now, back to life as we love it:
* Drink that water.
* Remember to go to recess.
* Be grateful for every good moment, and accept that not every moment may be good, but ENOUGH of them ARE.
* Eat what's in that bag, it's why you packed it.
LIFE if good. Live it to the full. YOU are worth it. Spark on!