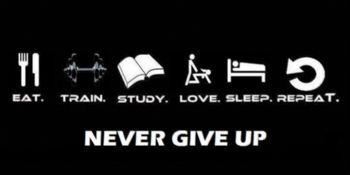 Hello sparkers,
Well, today started out super late and I'm a little disappointed about that. I set multiple alarms this morning so I could get an early start on studying for the MCAT (which I'm taking in 5 days), but I simply snoozed them all and slept in until the afternoon. What a waste of time.
Not only did today start out later than ideal, but I woke up feeling particularly depressed. So far I've done a little cleaning around the house, and while I was bleaching the bathroom sink, guess what came to mind?...
My ex.
Yea, my ex-boyfriend who basically used me for sex and led me on 2 months after we broke up, then decided to tell me he's pursuing another girl and hasn't loved me for a year. I've managed to push off thinking about him for the most part over the past few days, but today all that pain just came flooding back into my heart. I tried so hard to fix our relationship. I read books about how to communicate with your significant other, because I know that's the main area where we faltered. I even set up a surprise dinner and spent all day preparing my house for it, because I never did anything like that when we were actually dating, and I wanted to show him how much I still love him. And what did I get? More pain. I seriously screwed up.
Some days I feel like there's an elephant standing on my chest. Today it's a baby elephant.
This isn't the lowest I've felt regarding him, but I feel like it's a digression back into self-pity land, and that's what I'm trying to get out of. I've been exercising every day. I've been eating right (for the most part), I've been studying my butt off for the MCAT so I can just get into medical school next year and get away from this painful place. I just need something to change in my life for the better. I feel like I'm drowning in sorrow, at times.
Well, it's almost 3:00 and I still haven't started studying. I also need to hit the gym at some point today, because I'm on a streak! This will be day 8 of getting at least an hour of exercise in every day (:
Hopefully I can succeed in making myself the person I want to be. I want to be fit. I want to be healthy. I want to be happy and successful. I know my old relationship was holding me back in many ways, but I just can't rip him out of my heart. I feel so pathetic.
Till next time ~