July Update
Sunday, July 21, 2013
Looking back over the last month I am definitely getting more active. I realise though just how poor my fitness level is at the moment. I am up to doing 20 min on the Exercise bike and have added the treadmill too in the last week. In the Physio we are concentrating on strength and balance. At the end of 30 minutes with her I am usually puffing and panting and dripping in sweat. It is going to be a long road back. Even though my weight has been high for many years I was reasonably fit. I did do regular exercise and skied most winters 30+ days.
The good news is that I am making progress and I am getting stronger even if progress is slower than I would like. I have to learn to be realistic about what my body can do.
Foodwise well it is up and down, on the whole good choices but having trouble with portion sizes. Being able to stand longer means I am back in thee kitchen experimenting again. My Current theme is bulking up without adding calories so adding extra fruit and veg to my standard menus.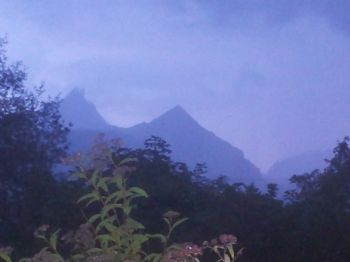 My hubby has finally decided to join me on my journey, I started him on sparkpeople, he logs during the day and I help with logging the evening meals ( as I do the cooking and serving). My only concern is he turns it into a competition our first weigh in at the end of week one is this coming monday.
Work and stress have been really high. I have worked the last 3 weekends, and am really enjoying this one off. We have escaped up into the mountain, I am going to try my first hike today. I have my walking sticks and knee supports with me and this morning looks like great weather after last nights thunderstorms.
Just want to say thanks to the support I am getting from the Sparkteam "The Knees" they are a great bunch of people who really do understand knee problems, I feel like I am learning lots and there have been some really motivating daily Challenges.
BFN
Michelle