I had a rather long bout since my last workout...life just got in the way. I have no idea how I am able to do this but after almost 2 full weeks without any training whatsoever, I picked back up again just like nothing happened. I feel very blessed since I was getting worried with such a big gap in my training and the event is just around the corner.
Thursday - (first day off after my set of nights) I just went to the gym and hopped on the elliptical just to check the status of my cardio and to get my bearings after having had a rough set of nights.
Friday - Went for an open water swim. I put on the wetsuit and went to Teal Lake. This time, it wasn't so easy. There was a brisk Northwest wind and it was coming straight down the lake forming heavy chop and whitecaps. It also so happend that a local triathlon was happening tomorrow and they had a marker bouy out that was 1/4 mile out and back. The problem was that I would be swimming headlong into the chop and let me tell you, It was HARD. It was also excellent training and it put the wetsuit to the test. Swimming into the whitecaps was like swimming into a brick wall. All in all, the wetsuit gave me unparalled buoyancy and control. I made 3 laps around the bouy (3/4 mile) in 43 minutes. All things considered, that was excellent... It's good to know I have the ability to get through tough swim conditions.
PS... also got mildly seasick. *note to self- take dramamine next time swimming in rough water.
Some pics of that day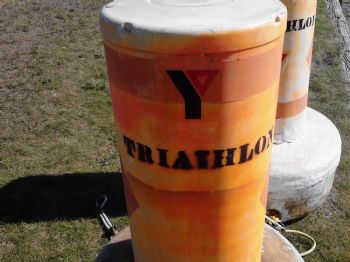 Marker bouy circled in red... hard to see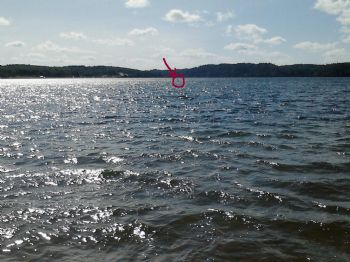 It doesn't look all that bad but it was REALLY choppy out there.. pics do no justice.

Saturday - Did my best brick workout yet... and set a new max speed PR to boot. I'll keep it short.. if you want to geek out on the stats and elevation changes etc... click below..
Bike Stats:
connect.garmin.co
m/activity/345663328
* there are a few times on the graph where my speed went to zero, my chain popped out of the sprocket 3 times and I had to stop to put it back on. I finally got it figured out where my shifters need to be to make the transition from high to low...finally....
Run Stats:
connect.garmin.co
m/activity/345663314
Short version...
Bike: 52 miles in 3hrs 23 minutes, avg speed - 15.3 mph.. MAX SPEED - 41 mph (yup, that was a rush!)
Run: 5 miles in 1hr 13 minutes, 14:43 pace.
Total calories: 5,251 cal burned. yup...that's right... that's why fueling is so important and one cannot skimp on calories and expect to perform well at that distance.
The good news in all of this is that I didn't have a single cramp or pain other than just simple exertion. I have been struggling with my left ankle and I think I got it figured out. I also finally got my race nutritional strategy pretty well dialed in and I am starting to feel ready for this 70.3 mile triathlon.
The only way I can describe coming off the bike into the run is the drained feeling you have the last 6 miles of a marathon. it was an on/off experience. It took about a mile to shake off the disoriented feeling I had transitioning from the bike to the run but after that I would have energy to keep a good pace then nothing and I would shut off and walk, after about a minute, I would recover only to shut off again a half mile later. I was able to keep this up quite comfortably for 5 miles and that was enough. It will be like that the whole race I suspect but the good news is that I felt fine during the whole process, no pain, no excessive exertion, just the annoying experience of on / off energy.
I will be fine, no worries. It's gonna be epic.
Here are some pics of my ride and I even was crazy enough to take a few off the aero bars in motion. I couldnt see the screen because it was so bright out, i just clicked.
My bike... loaded and ready to go.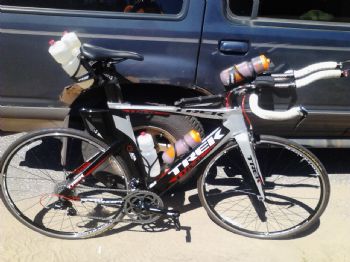 Stuff: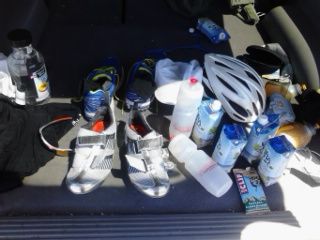 At the rest area where I was parked: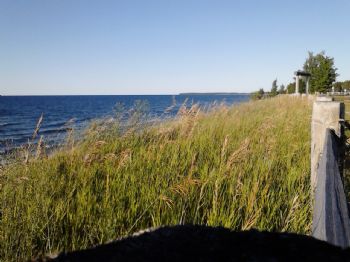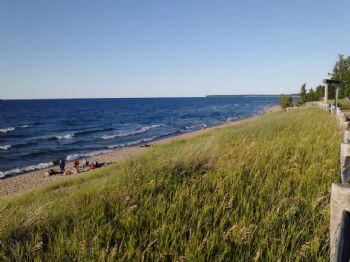 On The Road: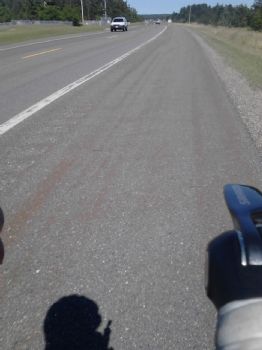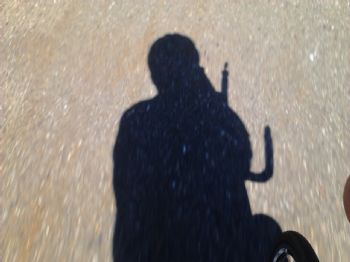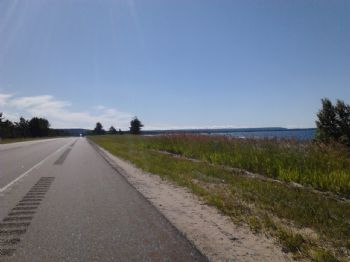 This one I stopped for- I waited until Christmas to turn around... Christmas, MI that is :)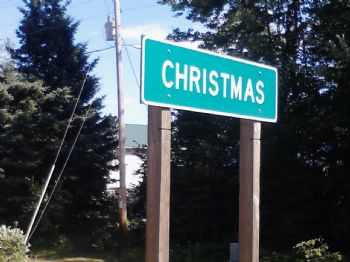 finally: ME :) Still smilin' after all that, a little crisp but smilin'

Thanks for your support, I really appreciate the comments, SP mails and encouragement. You folks are da bestest. It's really good to have such a great cheering section... this is a huge undertaking but it is gonna be EPIC in the end :)
btw... 2.25 mile swim next weekend at Teal Lake- swim for diabetes event... will post results.

You know? I remember when I couldn't climb stairs without feeling tightness in my chest and wheezing. Man, life is good.