I had another good week this week and lost 3 pounds. I'm down a total of 10 pounds now since resetting myself a month ago

. Which I was surprised by because I haven't been exercising as much as I would have liked because of my foot. Instead of doing nothing at all though, I've started treading water in our above ground pool, stretching, and even a tiny bit of strength exercises

. I love stretching in the water! Makes me feel like an ancient yogi lol

. It even helps my foot a lot.
I attempted exercising with my bogo find from Payless and they did not work out! They went right back to the store, but unfortunately It only irritated my foot again

. So I spent the week looking into shoes and what not and today I went to the mall to go to the lady footlocker to try on different types of shoes with my sister (BunBun2010). I was all excited and ready to go this morning, but it turned out to be embarrassing and frustrating

. I checked online to see their inventory and they had larger sizes and wide widths (In workout shoes I'm an 11w). So I was all jazzed to try things out. Turns out in the store they do not carry wide widths at all. All those shoes I saw on their website were not carried in store. I asked the sales person which shoe on there huge wall was Wide Width and she said we don't carry it at all! Not one shoe on my list was I able to try on. All I kept thinking was great, now my feet are to fat to go shopping! lol I found it ridiculous. The store to me wasn't what I thought it would be, it was more of a fashion athletic store for thinner ladies. The store Wasn't really a store that catered to running or sports. It made me feel stupid really thinking I could find something there. And I'm a pretty upbeat person, I hate to speak these words but its true. So I didn't get to try on one shoe the whole day, which was my objective for going to the mall. I did my research online and double checked that they would have what I needed for a reason. For me personally, knowing that I am bigger it makes me much more self conscience

about the stores I go into to avoid frustrations and conjuring up negative thoughts about myself. The sale person in the store wasn't the most helpful and she looked at me a bit sideways when I asked for a wide width and that made me upset.
Luckily I found Lane Bryant, one of the few stores I actually feel comfortable in. They were having a sale on clearance items. I got a $80.00 dress for $15.00. Made my day a little brighter


.
I know it seems silly to complain over not finding clothes in the same stores as "regular" individuals, but always having to find speciality stores is annoying. In the end though it always works out because they tend only to the ONE demographic. So I'll be heading to a store that caters to runners here in Cali called "A Snails Pace". They do diagnostics and everything to help you find the shoes that work for you. And they carry "Special" sizes! I didn't go there first because it is a bit of a drive away, but now I need to. If that store doesn't help me any, I'll just be back to shopping online

.
Hopefully I'll be fitted with my new shoes soon!

P.S.: I posted a recipe this week that I improvised. It's surprisingly good!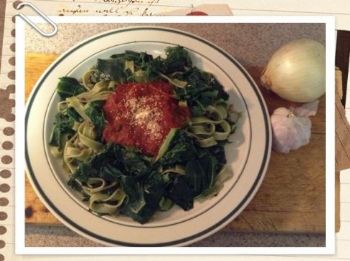 recipes.sparkpeople.com/
recipe-detail.asp?recipe=2
534114