Saturday I completed my very first 5k. The Color Run in Indianapolis. It was SO MUCH FUN! I don't even think the all caps adequately describes the joy we felt doing this event!
I was disappointed that my shin splints were still causing me leg pain, and I didn't get to run as much as I wanted to. In fact, I walked most of it with my sisters and my step mom (my youngest sister was celebrating her 9th birthday and kept up like a trooper!).
Even though we walked most of the 3.1, I did manage to squeeze in some run time... and I ran the entire last bit of the race to cross the finish line!
The after party was even more fun than running through the color stations on the course. Every 15 minutes they do a color blast and everyone in the crowd tosses up a bag of the colored powder. We even got to dance on stage because we wore tu-tu's.
10,000 people were there to celebrate the happiest 5k on the planet.
I cannot wait to do it again next year. My hubby will be joining me as well. He came to this one but he was watching our son and couldn't compete. Hopefully by next year, we can run the whole thing together!!
Here are some photos from the event: BEFORE THE RUN WITH MY SISTER, ME, MY BABY SISTER, AND MY STEPMOM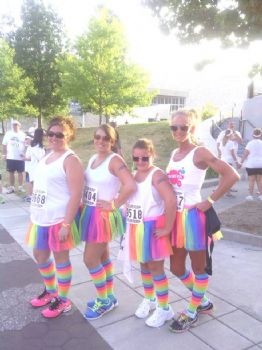 DANCING ON STAGE: IM ON THE RIGHT SIDE WITH BOTH MY ARMS UP.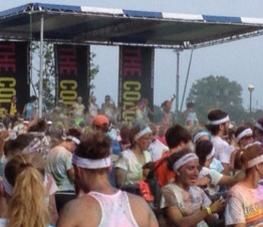 VIEW FROM THE STAGE! CHECK OUT THAT CROWD! I HAD A BLAST GETTING TO TOSS OUT FREEBIES TO THE SCREAMING MASS OF COLOR COVERED PEOPLE!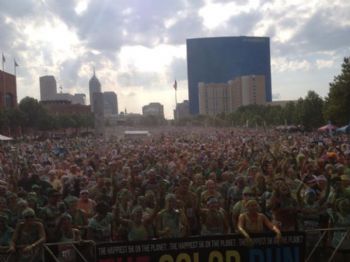 SURPRISING MY HUBBY WITH A POST RUN KISS!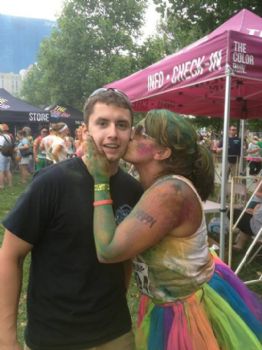 AFTER!! (IF YOU CANT TELL IM ON THE RIGHT LOL)