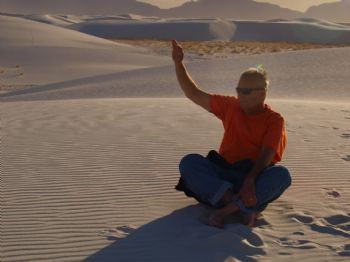 Tommy on our last trip to New Mexico. This was at White Sands where we were sitting on the dunes waiting to watch the incredible sunset. He loved this place and I'm so thankful God allowed me to share this with him.
They say God works in mysterious ways and that everything happens for a reason. When I began Tommyís journey with him in September 2009 after his diagnosis with pancreatic cancer, we were told he probably had six to twelve months to live. Thatís because the doctor didnít know how stubborn Tommy was and what a zest for life he had. I wonít repeat all of our story since most of it Iíve already written about. My ďBest FriendsĒ blog, however, gained a lot of unexpected attention. In short, this was about our three legged Doberman Pinscher, Thor, coming into our lives and teaching Tommy about the love of a dog and how the two of them became best friends and finally ended up battling cancer together.
For some reason, I pulled back away from my computer the last few weeks only checking in occasionally on Spark People and Facebook. I felt a need to spend more time with family and my boys (both two legged and three legged). Tommy, Thor and I would go for rides to the river, drive to the Dairy-O for ice-cream, just whatever we felt like doing. I couldnít quite understand myself why I felt a restlessness, but now I realize this was God at work in our lives.
This morning both Thor and I are broken hearted as we have both lost our best friend. Tommy started to feel bad a couple of days ago with what appeared to be a cold, but Thursday he was weak and unsteady on his feet and was developing a cough. I took him to the emergency room that day and was told he had very quickly developed pneumonia due to his weakened immune system and had become septic. The wonderful staff at the hospital and his oncologist fought so hard for him, but despite all of their efforts, Tommy passed away peacefully yesterday just a couple of minutes before noon.
There was a flurry of activity in my home last night, well meaning family and friends wanting to keep me busy and laughing by sharing stories of Tommyís antics. While it did help to smile and be with them, I couldnít help but notice Thor and the way he was moping around. We took turns petting him and playing with him, but he was looking for his best friend who was nowhere to be found. I sit here this morning in my now quiet and empty home drinking my cup of coffee after making a full pot and pulling out two coffee cups before remembering that I only needed one. I am trying to comfort what appears to be a grieving dog who knows something is not right. I know I cannot fill Tommyís shoes for Thor, but I will do my best to take him on the daily walks that he shared with his best friend and keep him happy and comfortable while he continues his own fight against cancer. Itís what Tommy would want.
Thor in his favorite place in our van, watching out the front window and helping Tommy drive.