Friday, July 19, 2013
The truth is ... I'm a little bit scared. A little bit angry. A little bit bitter. A little bit tired.
A person in my life yesterday asked me what keeps me going? Why do I push so hard when things seem so stacked against me. I responded with ... because I don't know any other way.
Honestly, A little piece of me died yesterday when I weighed in and the scale announced 204. The number isn't real and I know that but fighting so hard for so long only to see the same number over and over again is bound to take its toll. Yesterday I felt deflated. The truth is I don't know how to not fight ... how to stop and put it all down and walk away. So, I keep fighting and pushing back.
The thyroid medicine makes me sick and my train ride into work is horrifying. The other day I HAD to get off one train before I passed out. I am sure the woman next to me thought I was having a panic attack. I went in for more blood work so the doctor can adjust the dosage. Now I wait.
Today I cried when this was posted on one of my news feeds ...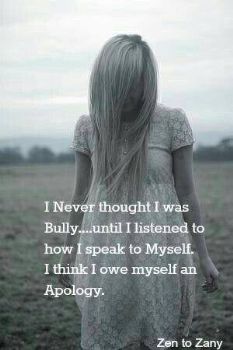 Self reflection is in progress.
The Truth Is ... I'm Beautiful - Sexy - Curvy - Ambitious - Determined - Loved - a Fighter - Driven - and so much more.