Friday, July 19, 2013
Our son is 16 and is severely dyslexic. Over the years, we've done several therapies and many, many curriculum changes and modifications to help him.
As he approaches graduation and college, I've been petitioning the Lord for one last answer to this multi-dimensional issue for our son. He provided! Of course!
I went to a homeschool mom's meeting and one of the mothers shared a book with me called The Irlen Revolution. They had found help for their teenaged daughter through this method and blessings upon blessings, we only had to drive 1 1/2 hours to the person who could help!
What our son has is called Scotopic Sensitivity Irlen Syndrome. Certain light waves are causing his brain to see distortions even though his sight is 20/20.
www.Irlen.com
Today, his filtering lenses arrived in the mail from the lab in California!
He was able to read the local newspaper, a green-colored page in a motorcycle manual, and his Bible without skipping lines, seeing the lines change into waves and rivers, or the letters morph into other shapes and he saw all the tiny punctuation marks!
Doesn't he look awesome in his glasses!?!?!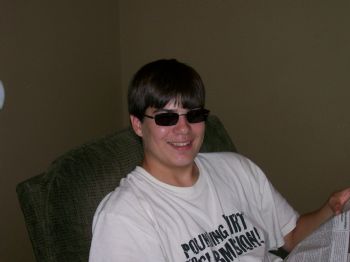 This will help him feel like the smart kid we always knew him to be, mean college is possible, and relieve a lot of stress off this homeschool mom.
We are so excited!