Dr. Mercola recently wrote an article saying, "Previous research has demonstrated that refined sugar is more addictive than cocaine, giving you pleasure by triggering an innate process in your brain via dopamine and opioid signals. Your brain essentially becomes addicted to stimulating the release of its own opioids." http://articles.mercola.com/si
tes/articles/archive/2013/
07/18/brain-imaging-confir
ms-food-addiction.aspx?e_c
id=20130718_DNL_art_1&utm_
source=dnl&utm_medium=emai
l&utm_content=art1&utm_campaign=20130718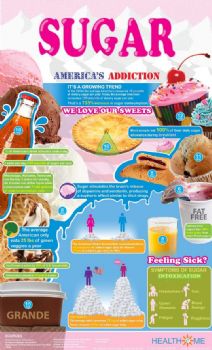 Regularly activating the receptors create sugar addiction which are super difficult to break.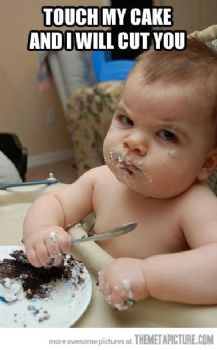 While they say it's OK to eat sugar in moderation, so was smoking prescribed by Dr.s to patients.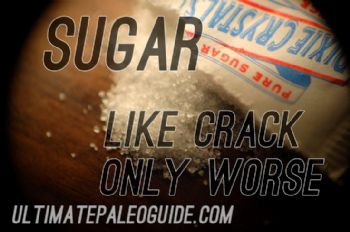 Eating sugar triggers cravings for other things intensely which creates a vicious cycle that is hard to break.
One article I read today said corn syrup has MSG added to to it. If that is true it also helps to explain why processed food is so addictive. MSG causes your body to crave foods and it damages your brain. Russel Blaylock has a book written on it. Yikes. No wonder we are an addicted nation. Artificial sugars are just as bad in other ways causing cancer and other health issues.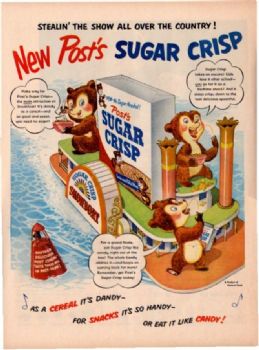 If you look close the little bear encourages us to feed our children sugar.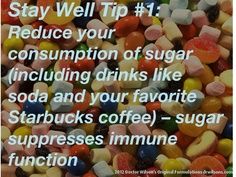 Sugar Causes CANCER researchers have found. It feeds it. Is it really safe to eat something that feeds cancer. In college my instructors said, "every person alive have cancer cells floating around in there body. What matters is if there immune system is able to fight them off. If it isn't strong enough a tumor forms."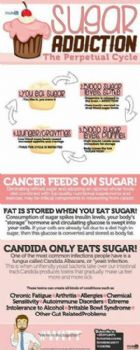 Research has also said that sugar feeds candida, a fungus in us. Fungus is linked to cancer. Yuck. Who wants fungus growing in them.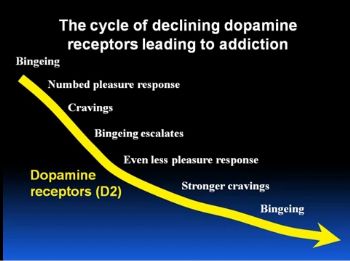 Candida creates even stronger cravings for sugar as it tells the body to feed me sugar.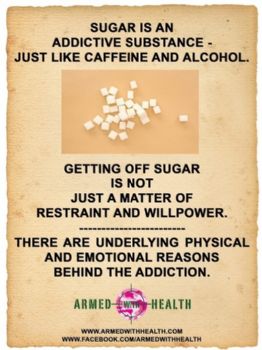 Corn syrup is tucked into so many foods we tend to forget about it. It's just as bad or maybe worse as it's metabolized by the liver differently and has MSG in it. It is supposed to cause cirrhosis quicker than sugar. WE CAN get CIRRHOSIS from Corn syrup !!!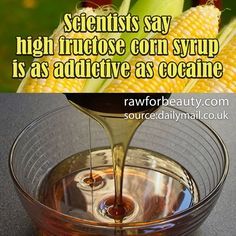 I tend to not eat much sugar. Blogging for me is to psychoanalyze any cravings away or desires. No intention to offend anyone here, it's purely personal. If I make something NASTY enough - It helps me to WIN the BATTLE of the BULGE !!! Since I battle alone, without close friends, or a support team I blog to mentally evaluate choices.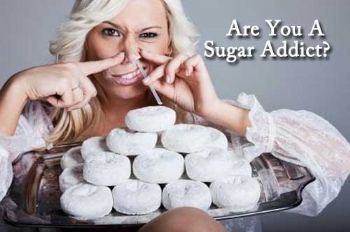 Sugar damages the brain. Who willingly wants brain damage? Not I. They say it causes MEMORY issues and can lead to Alzheimer's or Dementia type issues.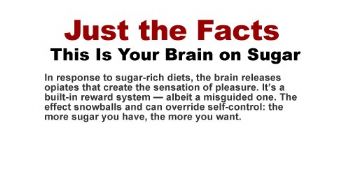 It used to be the Medical profession said sugar was not linked to diabetes. Can you believe that? Now they admit to the link. When in doubt, doubt the experts.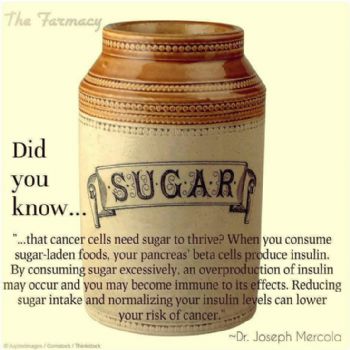 I was encouraged by someone's comment to make a blog up on sugar. While I like everyone else get tempted, I fight the good fight valiantly.
I claim to not be an expert, just an average person with an interest in health. It has been my experience the best way to decrease sugar addiction is:

To eat MORE vegetables.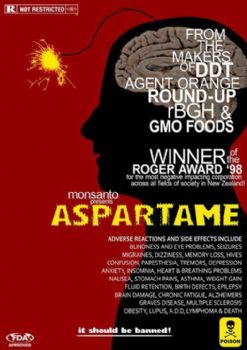 Don't use sugar substitutes either. They cause cancer, obesity, heart disease, neurological issues, and more. They are just as bad. Monsanto is my least favorite company. They make genetically modified foods which are linked to death in animals, birth defects, etc. Do the research.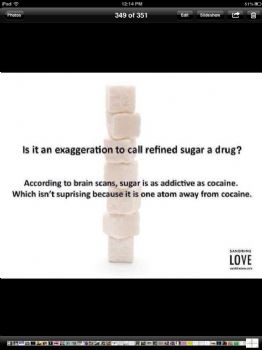 Avoid anything in a can, bottle, jar, or processed.

If it is in a can or jar, bottle, etc. It almost always has chemicals added like artificial flavors or natural flavors which contain MSG hidden away. The added salt or sugars trigger cravings for sugars.
Don't eat purchased pizza. Make it from scratch including your own sauce. Home made does not trigger cravings as much as it does not have the MSG or hidden corn syrup, sugars that trigger the cravings for soda.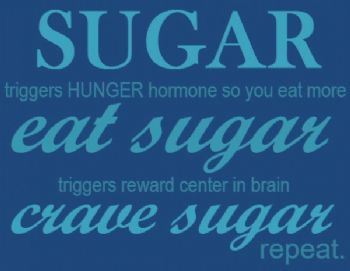 If you want something sweet, eat fruit. Today I was craving sweet. I dove into a fresh cut pineapple. Not out of a can, FRESH. Yum. It totally takes away the craving. Eat what fruit calls you. Even if it doesn't if you try to eat fruit, soon you will find it satisfies the craving for sugar.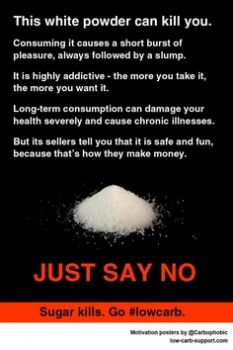 Use homemade salad dressings or lemon juice on salad. The bottled ones are full of hidden crap. It only takes about 5 minutes to make fresh dressing and it tastes so much better.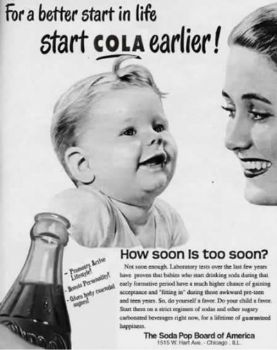 Become a JUICER. Juicing helps to increase my cravings for fresh fruits and vegetables. It helps to break free from the cravings.
Drink lots of water. Don't like water? Add a drop or two or to taste of essential edible oils. Read the label, not all are edible. I like peppermint, lemon, tangerine, and others. Add a lemon to water. Yum.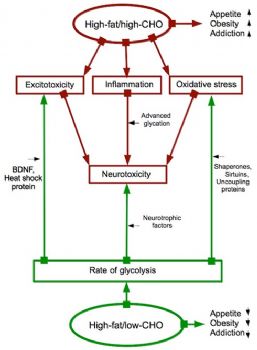 If you search on line you will find articles that tell that food companies do not have to honestly report all ingredients. They add stuff that creates addictions. Try having one potato chip?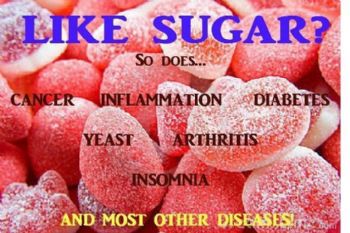 While the journey is never easy, it is one I press on. It is for my health. The choice is obvious, to break the cycle. I hope to be able to totally break free of any desires for sugar. When you think of it as being similar to cocaine for our body it makes the choice for me as clear as day. No sugar please.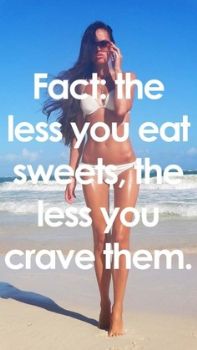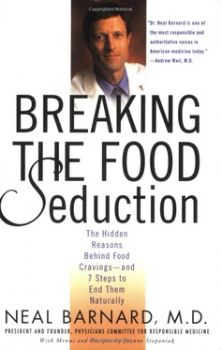 This book explains many little known food facts for further research.
While I can say right now my sugar consumption is low, mostly fruit and veggie diet, I have slipped. One slip triggers the whole cycle which I have to work to beat. For me moderation does not work. Who wants to eat a bit in moderation of something that causes cancer, heart disease, memory issues and more. Abstinence is a better choice.

While sugar is not cocaine, it has similar effects on the brain.