Thursday, July 18, 2013
Day 4 of extreme heatwave. Been working outside early morning doing filthy dirty hard laborious chores in the garden. Sweating profusely. The scale was 1.1 lbs. HIGHER than yesterday. It just pisses me off.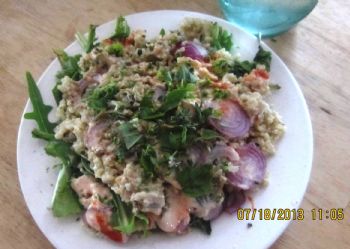 8 inch plate with fresh garden lettuce leaves, 3/4 cup quinoa with chicken broth, fresh red onions just picked from garden, basil and thyme straight from the garden, too. 1 tbsp. salad dressing and 1/4 avocado.
www.sparkpeople.com/mysp
ark/nutrition_food_chart.a
sp?sidqsip=6fPFw1%40HL%3C+
++++ifA+qpG%5Bv%3DmK+ctLyq
YKZ&sidqssd=G5bezE++MMeN&v
liqsparentpg=%2Fmyspark%2F
nutrition%2Easp&iMTGoalNum
=159988018&dteDateShowing=
7/18/2013&bGetElementByID=
TRUE&vliparentpg=%2Fmyspark%2Fnutrition%2Easp