Meal Prep Wed
Wednesday, July 17, 2013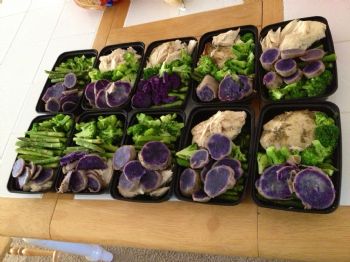 Today I did meal prep and this is meals for 5 days . I got home at 6am and put frozen chicken breast in the crock pot for 4 hrs.
Went to costco and picked up frozen spinach , fresh broccoli , fresh asparagus and sweet potato.
Total Calorie count for this meal is 313 .
I must say I am mighty proud of this meal . I got veggies that are good for the body .
anyways thats my wed. i also played with my Heart Rate Monitor , Random work out. Squats, free weights, gazelle , walking/jogging on treadmill.
total calorie burned today was 419 . I wanted to hit 500 but I will take 419