Goooood morning sparkles. I'm getting really bad at this blogging thing, which is bizarre because I love to blog. I've had blog ideas circling my head, I just haven't wanted to take the time to sit down and type them out. I'm still kicking copious amounts of arse. I got to buy smaller sized work pants because my other ones were falling off. So these should last me for a few months until they start falling off too (no objections there). I'm still wanting to do the Color Run in December, so my dad said he will pay for my entry fee as my birthday present. Sweet! Ill start c25k in September, but I'm going to do it outdoors instead of in the gym. That way I will be used to outdoor terrain, because its very different from the treadmill surface. I'm determined to RUN that race, no walking! Hoping to be in the 170s by then, we will see how my body does in the months leading up to it.
I did do progress pictures and measurements along with my weigh in this past Monday. Then I made comparison collage pictures. These are really hard to share, so try not to laugh at me too much.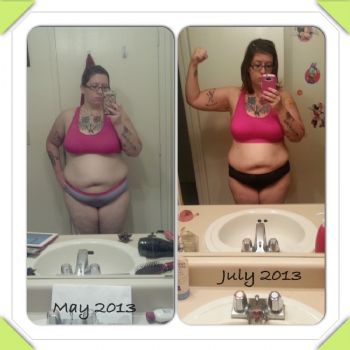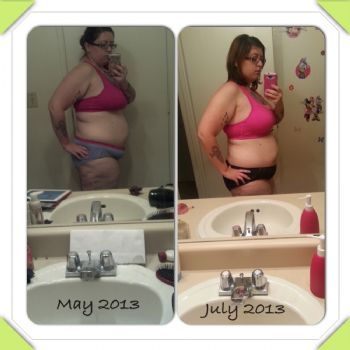 I see small differences here and there, but I'm not getting discouraged at all. I can FEEL my body changing. The weights I'm using for ST are getting lighter, so ill have to buy heavier ones soon. More challenging moves in Zumba are getting tackled with no modifications now. Hell, even my knee caps are becoming more bony. I'm loving it, and I'm not trying to rush it anymore. I'm just giving it all I have, because I know that in the end, it'll be worth it.
Now time for a sad moment.. I don't know if any of you watch Glee, but this past weekend, one of the main characters passed away... Cory Monteith. Now the deaths of actors don't usually bug me, but his has completely devastated me. Glee was the first show I ever really got hardcore into (yes, even before Doctor Who) and identified so much with. And he was always one of my favorites. He died of a lethal overdose.. Combination of heroin and alcohol. What makes the whole thing even more confusing and devastating is the fact that he had just finished voluntary rehab in April. He was doing amazing, he looked amazing, he was engaged to Lea.. And.. Then this happened. I spent the last 3 days crying about it. I don't want to believe that he's gone, I don't want to believe that he will never sing and dance again.. I don't want to believe that we will never again see his adorable little half smile.. That he will never get to marry the love of his life... Aggggh. It really is killing me. He was such a wonderful actor, he did so much to get where he was. He will be so very dearly missed.
Okay, now that I'm Really Teary eyed, I'm going to end this. I hope you all are doing wonderful.