I eat a lot of fruit.
DW shops at Publix, where they supposedly have a great produce section. I wouldn't know, I seldom set foot in a grocery store. But, DW does and she buys a lot of fruit. Fresh pineapples, grapes, apples, watermelon, cantaloupe, honeydew melons, black cherries and more.
She buys it and I eat it.
I didn't invent the Boilham Banana Split. Others, I am sure have made something similar - I just named mine.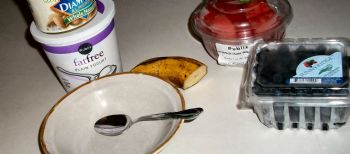 These are the simple ingredients. You must use a half banana, and then a couple of other fruits. Grapes are good, or pineapple chunks. Whatever you have in the 'fridge.
Today I had watermelon chunks and blueberries. I took a couple tablespoons of plain yogurt and threw it in a bowl. Added banana slices, blueberries and a few watermelon chunks cut up smaller.
Then I threw on a dash of chopped almonds. The plain, unsalted, unsweetened whole almonds which had been chopped earlier.
Here is what my banana split looks like: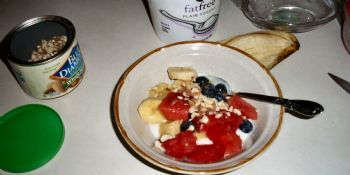 I had this for my post-run nutrition this morning. About 250 calories as made here.
Yum, yum, the Boilham Banana Split.
Thanks for reading and have a great day.