Two days ago I somehow ended up with 4 small spider bites on my arm. At least I assume it is spider bites, cause otherwise the bites look like bedbug bites, and I haven't been anywhere to get bedbugs.
I would imagine that I got the bites sitting out on the patio chairs, cause spiders seem to really love the metal grid work of the chairs. Yesterday the bites became quite inflamed and cortisone cream is only helping a litte.
~ ~ ~ ~ ~ ~ ~ ~ ~ ~ ~ ~ ~ ~ ~ ~ ~ ~ ~ ~ ~ ~ ~ ~ ~ ~ ~ ~ ~ ~ ~ ~ ~ ~ ~ ~ ~ ~ ~ ~ ~
I started some heavy-duty talk with Chuck yesterday about (my moving) to another town in another part of the state. I let him know I have done enough research to know what housing prices are in various parts of the state and where housing is available (I didn't tell him about UNavailability).
I impressed upon him WHAT has brought me to this, & WHAT it would take for me to stay here, and in this town.
To begin with he was willing to help me go search out areas for me to move to, with the plans that he would rent out my apt here for BIG MONEY. But, when I told him that I would keep my apt here for a year or so, until I decided on an area and apt that I really liked, and got to know if I could get into a group of people in the new area, well, THAT he wasn't so happy about, & suddenly wasn't so thrilled about me moving. Course I never get straight answers from him, but I gathered from how things went that he either wants me here under his thumb, or he wants me 'totally' gone. More than likely - as per his history of smearing my name here in town - he wants me 'fully gone', so I won't be coming back to town, learning about his smear campaign and me letting people know the truth / giving people the 'goods' on him.
The reason I am even talking to him is because I feel that if I just try to up and leave, without getting him to be 'willing' at some level, that the suddenness of me leaving could trigger a reaction in him that could be deadly. I know there is no way I can just slip out in the night, so I figure the best way would be to prepare him.
He DOES really want to know WHERE I move to. I told him, "I would let him know the city, but not where I would be living. And that I would not be having land line phone service, and would only be using a P.O. box for an address. Cause if I have to lose my home over this, I am determined to move onto my life, and that I would be cutting him out of my life."
I figured that to begin with I would get an efficiency apt. - one that would allow pets. He is against me having that small of an apt. He uses the excuse, "You are so claustrophobic that you couldn't handle an efficiency apt. I told him, "I lived in an efficiency apt when you met me, and I was very happy. It was only AFTER I married you that I became claustrophobic. BUT, he is against it. IF I move he wants me to get a full apt right away and completely move there. I really think he feels that if he can get me fully out of this area, then I am no longer a threat to him, as in exposing who and what he really is. Just as before, when I lived in the city for 7 years, he spent those years totally decimating my name and creating 'stories'. And, I wasn't around to protect my name. And, most importantly, I wasn't around to defend my name by letting anyone know THE TRUTH ABOUT HIM. And, so he would like me totally out of the area so he can do that again, and feel safe in doing so.
Eventually, IF I move, I would like to completely move out of here, and to wherever I have chosen to settle. And, once I am (completely gone) than I wouldn't give a rats what he says around here. Cause if I never have to deal with the people in this town again, then it wouldn't matter. But as long as I have to deal with the people of this town, and get their hostility over his smear campaigns, then I am not going to put up with having my name smeared here.
I told him last night that, "I will no longer tolerate ANY of his smearing my name and reputation around town. That any time he does it, I AM going to retaliate by correcting the information, which would mean telling them what is THE TRUTH and what he is really like. If that means you will lose your jobs and this house, than YOU chose that by continuing in your smear campaigns of me. Cause a persons reputation is one of the most important things they have; more important that housing, money or anything. You have to really LET GO of me, quit trying to force yourself into every part of my life, quit your smear campaigns, or I am GONE."
So, since he doesn't see me (totally) moving out at this time, suddenly he doesn't want me to move, saying "he would miss the dogs, he'd miss me, and he'd be all alone" (oh, poor him). (Notice I came after the dogs, as always...)
I really don't think he'd miss me. He didn't the 7 years I was gone before. In fact I think he really liked it. Cause it gave him ample opportunity to weave his stories/lies, gather tons of sympathy over his wayward wife who wouldn't come home, and sleeping with every Tom, Dick & Harry (according to him). And, he could do all his evil behaviors without me around to impeed any of it. SO, I think he wants that kind of 'freedom' again.
If I want to change my life I need to really change some things, especially how I utilize my time. I really need to use more of my time to getting out of this house and creating more of a social life, thus hopefully increasing my quality of life, while also impeeding his ability to smear my reputation here in town. And, I'd also know what is REALLY going on by seeing how people are, and what they say. And I need to use more of my time to search out options for leaving etc. Cause if I am 'hooked' to my computer or T.V. I won't have time for those other things.
I really want to start thinning out my STUFF. There is a lot of really nice, pretty things I have, that I really don't need. That take space, plus time and energy to upkeep. I could get rid of a LOT of stuff, and live in a LOT smaller space. I think I'd be happier too. I hate housework & I hate the clutter. I'd really like to live a simpler life with lots less to take care of. I wouldn't want to get back to how I used to be in my early years, where I could move with one carload. But, I don't want to have ALL I have now either.
I still have 'emotional' and 'other' work to do before I would actually move. I really don't want to lose my home and my gardens, but I don't want to spend the small amount of time I have left on earth in this 'mess' either.
Be with those who bring out the best in you, not the stress in you.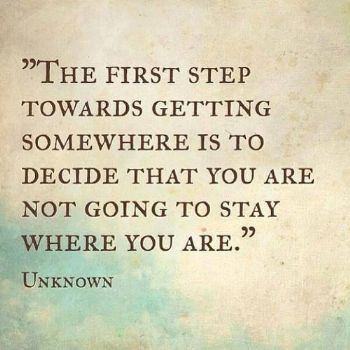 The first step towards getting somewhere is to decide you are not going to stay where you are.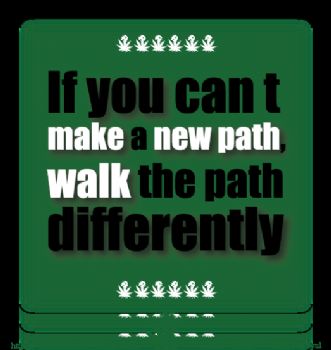 If you can't make a new path walk the path differently.
Always remember that your present situation is not your final destination. The best is yet to come.
Stepping onto a brand new path is difficult, but not more difficult than remaining in a situation which is not nurturing to the whole woman.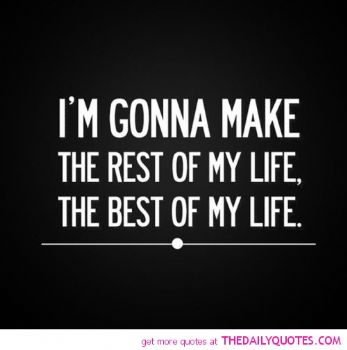 I'm going to make the rest of my life, the best of my life.
It is never too late to be what you might have been.