Saturday, July 13, 2013
So today me and my mom went shopping to look at dresses for my cousins wedding in August. I found a really cute dress on the clearance rack, but it was only in a size SMALL (which I haven't been able to wear for 3 years). I brought it with just to put on to see if I liked it and then figured I could order it in a large (my normal size). I had a hard time getting it over my butt, but once I got it on I EVEN GOT IT TO ZIP! I was so happy and excited! It was super tight and I couldn't breathe so I still ordered it in a medium, but I was so excited when the zipper fully closed!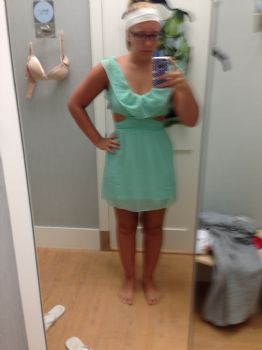 Sorry the picture is really blurry! but I was just too excited!!!