So, I went to work and was pleasantly surprised. About quarter of 8 a.m. the lights (which are on auto-programmed control) actually came ON, as did the A/C blowers. I even was able to comfortably change into the jeans I keep in my desk drawer.
After work... I went out and spent it all... every dime of difference between my regular pay and the first OT check I got this week. About half on bike accessory items: a new helment (the ten year old one... or was it 15 year old had developed a crack in the lining... probably from my tossing the bike into the back of the car on top of it...

). I also asked about the stem on the most recently replaced tube, and it is too short, the bike guy knew more than the new gal who sold me the tube, and when I explained about how it was too short for my pump he volunteered to replace it for free, labor included. Which fits in fine with getting the bike checked out before next weekend's games ride. He booked me in for Tuesday night / Wednesday, which fits in with a scheme to bike commute one day, and brick workout on the back end.
I also bought a set of tire levers, and some spare tubes while I was at it. This gal is going to learn to change a tube should need arise.
Then I went and got my haircut. Short, short!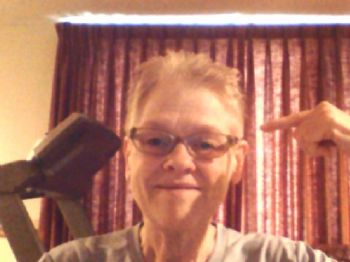 Now this should fit under the swim cap next weekend just fine.
In "short", I'm prepping for the Cornhusker State Games, and fitting them in around the OT.
Right now, got the sprinkler hoses out... it's HOT out there, folks, but life is still good. Spark on!