I have had so many people (both online and offline) ask me about how this is going and to keep them updated for many reasons. Either, they've always wondered what it would be like to get a personal trainer and never got one, or they just want to know what kinds of goodies I am learning about, which I can totally understand.

Friday morning I woke up extra early to make sure the baby was dressed and fed. I made sure I ate something too: a peanut butter sandwich and 2 bananas. The whole time I was dealing with the baby I just felt this squirling in my stomach that only after awhile I thought to myself, "holy crap I am NERVOUS." It was the same feeling in my stomach I got right before I sang in front of an audience in high school. The same feeling in my stomach I got when I was pregnant and had to go see doctors about blood pressure or gestational diabetes. I felt like I was going to throw up. But, I choked down food anyway...because you need energy to burn before working out.

Yesterday was my first official 50 min session with Jason. I made sure to get a gym locker for the occasion which I usually never do.
I was hoping maybe in his 10-15 min demo he had just CRAMMED as much as he could to make me sweat and make the sale. Maybe 50 mins would be comprehensive and slower even.

He told me the was going to show me something called "circuit training." I felt a little connection that he had some sort of 'lesson plan' for me like when I did as a teacher. He was even keeping an eye on the clock so we could fit everything in. Very professional.
I've heard of circuit training before, that is why some machines are all colored grey and numbered. You are supposed to go through the "circuit." It's also what made Curves so famous when I looked into that too.

However, based on our last meeting Jason had told me the machines are not the ideal place to build muscle. The way he explained it to me was that the machines were more for body builders. This is because of the way you can move the pin and increase the weight. He said, while this DOES build muscle you are making your muscles do the same thing over and over and you do not burn as many calories.


He also told me "do you ever notice that when you get off those machines you aren't sweating very much?" which I agreed to. This is because, according to him, they are NOT full body workout machines. They only focus on toning one area which is great for body building....not weight loss. Good to know. Apparently the trick to weight loss and building muscle is to try and use your own body weight as much as possible. You lose more calories this way.

So, we started on one machine because you could use the seat for support and it had resistance bands. Jason showed me FOUR different exercises that I could do with this one machine. They involved squats by themselves, then squats with double resistance bands, then just arms with resistance bands (one arm at a time), then lastly, squats with one arm working a resistance band.

I WAS SWEATING!! And the weight never really got higher than 5 to 10lbs when I was using the resistance bands. Once I went through it once....he said, "Ok, you've written that down on your clipboard. It's in your own handwriting so you can read it later. We wrote the name of the machine and the number, now put times three next to it." WHAAA??

So, we did that "circuit" three times. Four exercises in one....one machine....three times. Wow. Never, ever, ever, would've thought of that.

Next we moved to another machine. This one had me sitting down as well, but I had to lean my chest against padding and reach above my head to pull a bar down. Jason said, "its like a chin up..." Psh...like I had ever done a chin up Jason..come on.

However, I LOVED this exercise. He told me I had strong arms even if I didn't think I did before so we did more reps. It worked my chest, arms, and back. Again, three muscle groups, relatively large muscle groups. The second exercise for this machine was...."your favorite" as Jason told me, squats again. But, this time he had me stick my bottom WAY WAY out further and balance my bottom off the floor. There was no seat or stool under me, so if I felt like I was going to fall I had to grab the machine in front of me. Well, grabbing the machine made me lose form.

So after Jason and I argued a bit (he was doing some "no, no, look, like this...." and I was doing some "what? Say it again? Huh?") he finally just had me back away from the machine and do what we call a "free squat" no assistance. And to my surprise- I did it! I can do a perfect squat!

We did that circuit with squats, alternating pull ups, alternating squats, FOUR TIMES.
So, after we realized I didnt need to "cling to the machine for dear life" as Jason said I was doing...he had me go to an exercise that he said he wasn't going to show me yet, but he thought I was ready for.

The next "circuit" was called TRX. These are giant resistance bands that hang from the gym's ceiling. They are NOT elastic like a resistance band you have to step on to get the resistance. Just large thick strings with handles.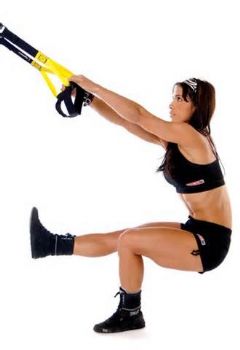 The scariest thing is that in order to get resistance you lean backwards. YOU create the resistance, and you put all your weight on this strap and pray you don't let go. I kept telling Jason this was a bit uncomfortable (not to mention after the first two circuits I was WAY fatigued, shaky and wobbly...so we agreed next time I could do this one 1st or 2nd)

He kept saying, "you won't let yourself fall" and I kept saying "but my hands are sweating and uh, I know I wont LET myself fall but I'm gonna fall!" so, after I leaned back and pulled myself up push ups I did MORE squats. This time he let me have a box behind me, because I was just losing my form big time. At least with a box to lower my fanny onto, I spring up with a straight back each time.

He and I both kept looking at the clock, so he brought it in for the grand finale and kept saying "i want to see how far you want to push yourself today Mandi!" gotta love those pep talks...and then I would be doing squats when he was pep talking me, so when he stopped talking and started counting he would say "1....2..." so I had to say "are you kidding me? 5....6....!" He told me personal counters are actually the worst counters in the world....because they do it all day.

He also told me "do 10 more reps and you can go home" so, I did 10 more than I thought I could and he said "thats the fastest 10 squats you've done all day....how about 2 more?" I think I looked like I was going to punch him because he said "I'm just kidding you're done"

We talked a bit about diet. He wants all organic. I nodded, but, food has been a constant struggle since moving in with mom and letting her take the reins on groceries so hubby and I could give all our money to our one credit card. The good news is we have paid $1200 of it down in only 2 1/2 months. So, every time I think we aren't paying enough..I do the math and we are kicking butt! Just..going to take time. I try to limit portions.

I did get criticized for my ONE splurge, Starbucks, he told me my coffee was like a "milkshake" and i said "what milkshake are you drinking that is ONLY 300 calories?" to which he shrugged and said "good point, just don't eat 300 more on top of that, you used them already," yes, yes I know.....but more importantly Jason my man, DON'T DEPRIVE, or I will binge.

So in a summary, I learned 3 "circuits" on 1 worksheet. I have homework to do that worksheet TWO TIMES before I see him again. At the end of the sessions I will have FOUR worksheets to alternate from so I will never be stuck in the same routine.