Yep that's the kind of fun I've had. Oh I forgot, staph infections on the face!
Panic one .... the work men need to turn off the power to our AC to pull the siding off. After a 15 minute search for the breaker to turn off the power they give up and work very carefully around the electrical wires going into the AC unit. Guys tell me this is a bad thing and I need to get it fixed, like now.
Panic Two ..... I'm trying to keep the mess under control, so I clean when the workmen leave for lunch and for the day. Well I plug in the shop vac and everything is fine. I unplug the shop vac and the power on that wall goes out. GREEAAT!! Guys come back from lunch. A wire had come loose in the plug. Which could of started a fire.
Panic Three ...... The AC goes out. *SIGH* Call Ac guys, $250 later and a new breaker, AC works. But I'm told that I need to have the electrical box replaced and that will be thousands!! Call electrician, box was fine, just need some plugs and two more new breakers. $175 later.
Panic Four ..... The space over your door ways and windows are called "headers." They have to made differently than you wall cause it need more support. Wellllll we had our 30 inch doorway opened up to 60 inch (niiiicccceeee!!!). Guys go home for the weekend. Hubby and I are sitting on the sofa and I noticed that the header is bowing, not a good thing. This doorway is in a "load bearing wall" meaning that it is supporting my roof. So call guys, he tells me to brace it up. I do, send him a pic and he says that will do till Monday.
Panic Five ....... Hubby face swells up on Friday. We go to a walk in clinic on Saturday. He's got a staph infection on his chin. We go back to clinic on Monday cause it's bigger. They give him two shots and tell us that if it's not better tomorrow he needs to go to hospital. Tuesday .... hubby has a full body rash, we go back to clinic. Get different meds. Wednesday the swelling is going down. We were at the clinic 3 times in 4 days. He still has a little knot on his chin and no, he did not have to go to the hospital. Thankfully.
Panic Six ....... argument with my mom ......
Panic Seven ...... snake!! OH CRAP!!! COPPER HEAD!!!!! very bad, very poisonous! I'm sitting on the patio talking to my mom on the phone (apologizing, both of us.) and I see 4 or 5 different types of birds on the fence by my compost bins. I'm thinking something is up. So I start walking out there in my shorts and little slip on shoes, grab the shovel along the way - just in case. I see a black speckled thing and jump back thinking snake. But no it's just a baby Robin that has just died. I picked the poor baby up and saw something shiny moving in the grass about 6 inches away. ..... Yep you guessed it. A copper head. Scared the crap out of me. Dropped the baby bird, grabbed the shovel, put the phone down (was still talking to mom) and stabbed the snake with it. I killed it.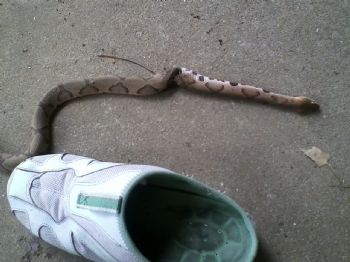 Panic Eight ..... My dog Katie ran away. We were out front going potty and she got scared and took off across my neighbors yard. I'm holding little old brown dog. I bring her inside, tell the guys, take off back outside to find her. Can't see her anywhere. Neighbor comes out and helps me look for her. I jump in the van and drive the neighborhood. Can't find her. Come back to the house, neighbor found her. She was hiding three houses down in a woody weedy drainage ditch.
Small Panics ...... Ceiling fan comes loose, dishwasher quits, cats decide the living room makes a good bath room ......... yeah, I think that's about it.
You know, writing it all out sure does make sound like I had a lot going on in the past month. .... also kind of explains why I've been so stressed.