Six Flags, Roller Coasters, and a Sad Realization
Friday, July 12, 2013
Okay, so I didn't walk a thousand miles, but it sure felt like it!
I spent the last couple days in Illinois at Six Flags and Gurnee Mills mall. Six Flags was amazing and we managed to get on all of the roller coasters, so I'm pretty impressed! My favorite is Raging Bull.
I had a really embarrassing moment on the X Flight. I initially had anxiety about going to Six Flags because I was scared I wasn't going to fit on the rides. Many of them were a VERY tight squeeze, but when it came to X Flight, I sat on it and the thing wouldn't lock because of my bodaciousness. The worker lady came over bad I actually had to move to a special seat they had for larger people. It was one of the most embarrassing moments of my life. The girls that had to move so I could get in their seat kept asking why they had to move bad thankfully the worker had discretion and wouldn't tell them. My own cousin that was with me didn't even know. The thing that sucked is that was my cousin's favorite ride and she kept wanting to go back on it, which horrified me. I finally confessed to her the reason went we had to move seats. She still kept bringing it up. It's hard because she's always been naturally thin. She said who cares if we would have to move seats again? I get that, but I'm sensitive about my body. Always have been. The one silver lining is that when we go back next year I hope to be about fifty pounds lighter... Hopefully I won't have that problem next year. Sigh.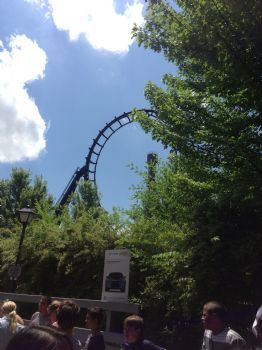 Weigh in is tomorrow and I'm praying that I won't gain. I'd be happy with no movement.