Just as a warning...I've decided to have a jammy day so brace yourselves LOL
To answer a few questions...
I actually like water and have no problems drinking it when I stay away from pop. I have no problems getting 2 litres (64 oz) in a day, but when I get back into a pop phase I just can't seem to start with my water intake. I'm out of pop now though and I'm supposed to have someone to help me go get another jug later today...as long as it doesn't fall through then I should be back drinking water again, if not I'll most likely end up buying a case of pop again.
Our town's water is SAFE to drink but it has weird tastes, and I say tastes because the taste varies day to day. I'm not sure how many people remember over a decade ago about the town of "Walkerton's Water Tragedy" where the entire town got very sick and many died because they weren't testing the water the way it was supposed to be and they had the E. Coli virus in it. Well I live about 10 mins away from that town, so now of course anyone that lives around here has to deal with large chemical dumps in the water all the time to "make sure" it doesn't happen again. So one day the water tastes fairly decent, the next couple days will taste like drinking straight from a public swimming pool, plus the apt we rent has older pipes so sometimes you get that taste in there as well. Plus we share the water with a restaurant down below us so the hot water is super hot and the cold is more like warm LOL.
Next question would be about a Brita filter...I've tried them in the past and they do cut down SOME of the chemical taste but it's still fairly strong. I've been interested in that new Zero water pitcher that's supposed to filter way better than a Brita but haven't heard of anyone who has tried it, and when you think about the price of the filters, it's almost the same price as buying the big jugs...almost.
I won't buy bottled (like the portable sized bottles that everyone buys in 12 and 24 packs) simply because it's just plain wasteful. It's more costly in the long run and even though they're recyclable, they still need to be sent to a factory to be melted down and factories can be just as bad as regular garbage to a dump. So I buy the big massive 5 gallon jugs. They require a deposit but I always return a jug when I pick one up so really it's $5.79/bottle. I usually go through 2-3 a month depending on how much my older kids drink when they're here. If I catch a ride with someone already heading that end of town it costs me nothing to get to and from the store =]
I only get my water at the one store because I don't like Culligan water. Only one store in town sells Artic Clear so that's why I have to go so far to get my water. Culligan tastes like Dasani which isn't as bad as it used to be but still tastes funny to someone who used to only drink well water for years and years. I've been told by so many that "it's just water" but tell an avid Pepsi or Coke drinker that it's all just the same...you'll get the same look LOL. Ya I'm being picky but hey...I drink a lot of it when it's here and something I can drink guilt free =]
The way I look at it...yes it's free at the tap, but isn't coffee cheaper to brew at home too? I hate coffee but the majority of the people I know drink it several times a day and they get at least one a day at Tim Horton's (in Canada that's as popular as your Star Bucks, well probably more popular because you always hear about Dunkin' Donuts in the US too but here in Canada you only hear about "gotta get my Timmie's!!!). So when you compare to someone getting a coffee all the time, my water for a month is like buying a week's worth of coffee LOL. I don't drink anything else in less I'm almost out of water, then I start out reaching for milk and adding chocolate syrup too it in most cases, then I might reach for juice if any is made up. We seldom ever have any juice, it's milk or water at our house. Although the twins have their own apple juice but they're in those big jugs and they're pure apple juice and as soon as I get it from the store I pour half into another jug and then make both jugs half juice half water. So the twins juice is off limits to adults and big kids. If I go most of a day without water I tend to start reaching for Joe's (the bf) cans of pop and then I end up buying a case for myself the next day since the store isn't that far away. More reliable transportation would really help with keeping water stocked up and then I'd be less likely to grab pop in the first place. Once it's out of my system, it's not that hard to keep it out (that is til the jug gets low LOL).
Flavouring water? I used to buy Crystal Light all the time but my kids would steal them all on my LOL and it's more convenient to mix in a bottle of water than the reusable ones I've picked us all up at the $ store. The ones we have now are pretty good for sealing really well but I just don't feel like dishing out the dough for it so that my little boogers can steal all my favourite ones LOL. As for using citrus fruit - part of the reason is just plain laziness. I enjoy it either way and so I tend to not bother...also the boogers love citrus as well and will eat the slices straight from the fridge LOL. If I'm at a restaurant I always put citrus in my water though. I find at a restaurant the water varies from place to place and it's only good if it's really cold, so the citrus takes the crappy taste away LOL. This time of year I order a pitcher of water instead of just a glass. Saves on having to wait for the waitress to come back to the table before you can get more, plus it's highly likely I'll drink it all when there's a pitcher which increases my water intake for the day. Since we don't have a car we walk everywhere so the extra water makes up for the water lost on the way there and back as well =]
Today's Pics...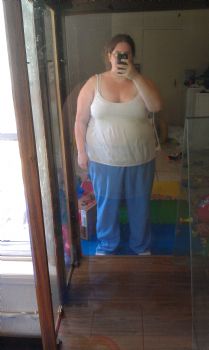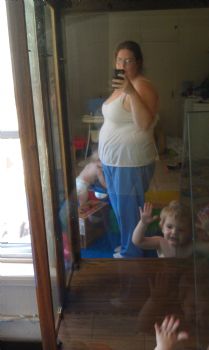 I'm so glad people like this challenge =]
I've always struggled with my image in the mirror - even when I was in grade 10 weighing 118 lbs. I've never been a girly girl. I grew up with all boys. First girl in my life besides my mom and aunts was my sister who is 6 years younger than me. All my best friends were boys and the relative I was closest to was my uncle who was only 4 years older than me. It was no secret that my dad had wanted a boy and being his only child it kind of made me feel out of place but I tried my best to be the best kid I could be so that he wouldn't be disappointed despite me being a girl. It hurt him even more because the ultrasound they thought I was a boy and they were prepared for a boy and all my cousins born before me were boys plus it was engrained in his head by his father that by having a boy they could carry on the family name (my dad only had one brother - the one close to my age so not many grandkids would carry on the family name). So I've never been into fashion, clothes, makeup, etc.
So this is the 1st time in my life that I've actually looked at myself every day in the mirror.