I had wanted to do this for a very long time, and so finally, finally, I had my first Geocaching adventure yesterday.
I got interested in Geocaching about a year ago when I first heard about it, and I was very intrigued to think that there were little containers hidden all over the world, with clues given for us to find them. A real live treasure hunt! How cool is that?!?!
I simply felt it was too good to be true. Being an adventurous sort, this type of thing really got my attention. I told my hubby about it, but he isn't the adventurous type and his reaction was, Oh we will have to try that some time.... Yes, the killer sentence that means we will likely never do it. Although I have never been the sort of person that needs to wait on someone else, I really did want a partner to enjoy the experience with.
It's not like I have any free time either to do this kind of thing. I work full time, PLUS run my own business from home on the side, have 2 young adult sons, a hubby and a home to tend for.
So, I kind of forgot about Geocaching for a while, and then

I thought of my girlfriend, the one that auditioned with me for the Amazing Race

. I was off this week on vacation from my regular job and so I asked her last week, and she said of course, I would love to try that!

So our plan was set into action.....
I printed off tons of cache clues in our area, packed some snacks and water for the car, grabbed my GPS and off we went. Her teenage son joined us.
We did all local caches to start with and did 5 in total yesterday. I was so exhausted, I was in bed by 8:15 last night!
We had a 60% success rate, so not bad for our first time out. The first one we went to we couldn't find, but with it being our first one, we really didn't know what to expect AND after looking at those clues later, I think we looked in the wrong area. The second one we found the location although it was hidden good, but we couldn't locate the cache. Perhaps out for maintenance? or we just missed it? Either way, we didn't find it. Surprisingly, we were not getting frustrated, but we were getting hungry, so we stopped and had some lunch and then went back out after that. We had much better success in the afternoon, we went for 3 other ones and found them all!
What great fun we had, and some good hiking exercise too!
If this is something you would like to try, I would be happy to share more information with you. There is also a website that you can sign up to for free to find caches in your area. That website is
www.geocaching.com
.
It was a beautiful day for geocaching, here is a picture from my first location;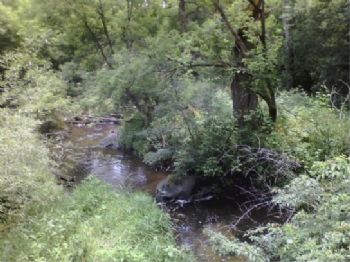 If you liked this blog, please be sure to click on 'Get an Email Alert Each Time SANDYDOLLAR201 Posts', so you can hear about more Geocaching adventures!