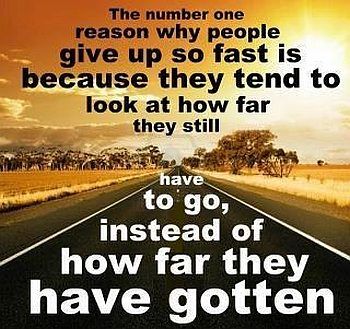 The other day, Monday to be exact, I felt like giving up. I was in a whiny mood. I was feeling sorry for myself, then I had a reality kick in the butt. I got on my bike, did 5 miles, then I did 2 more with Leslie Sanson, then I did another 35 min of resistant bands. And you know what? I was no longer feeling sorry for myself. I felt good that I got through another day of exercise and eating right. I watched everything that went into my mouth and was just within calorie range.
I truly think the reason I have felt this way is because I'm out of my normal routine. Up at 5:00 AM, 1 hr of exercise, then do whatever I have to do before going to work. It hasn't been like that this week. I've slept in, felt lazy and just not like I normally do. Why? Because I'm not normal...

No actually it's because I have veered off of my normal routine and I know that now.
Today, I was up earlier, did my exercising all before 7:30. That made me feel better. what I am seeing though is unless I do at least 7 miles a day I will not reach my 150 mile goal for this month. So.. this evening while watching TV, I will be

to who knows where. Perhaps some exotic get away one never knows with me..
My quote for the day: Start by doing what's necessary; then do what's possible; and suddenly you are doing the impossible.
St. Francis of Assisi
On a brighter note,

my beautiful little kitten (Stormy) that we found during the storm here in Ohio a few days ago, found a home yesterday with someone who had been searching for another kitten to go with their kitten so it wouldn't be lonely. A big THANK YOU to Nicki for taking him. And guess what he's now part of the Star Wars clan because then named him Chewbacca.. so cute.
On the sadder side,

I just found out one of my class mates passed way due to complications of an appendectomy he had performed. Who hears of that these days? Sam Price, may you rest in peace.
Just for kicks: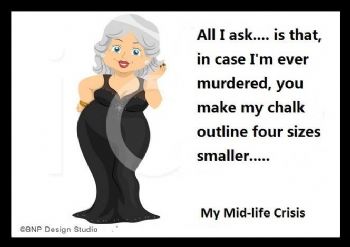 It reads: All I ask....is that, in case I'm ever murdered, you mae my chalk outline four sizes smaller..
I still say when I die, I want the mortician to do a complete face and body lift. I want people to walk by the casket and say, "DAMN, she looks better dead than she did alive". (meant to be funny not morbid)
Have an awesome Friday everyone ~ Donna