Thursday, July 11, 2013
Didn't get all the rain or the big storm that was called for but the it hit enough places close to us that the humidity still dropped. So 1st thing we did today was get dressed and went for a walk. We went to a coffee shop which wasn't a great idea but we had lunch there not junk. I ate a tuscan turkey wrap with a house salad and balsamic dressing with an orange juice. Only stole about half of the kids muffin. I hate tossing food and they wouldn't eat anything so I fought a bit of the urge to eat it. Better than eating most of both muffins though =]
Baby just went down to sleep and I hope it's not the short nap she likes to take off and on all day but the one where she's out for a few hours. It's usually around now she goes down "for the night" and then we get up around 1-2 or if I'm lucky a bit later. I figure I'll post my photos now while waiting to see if she's out for a short or long sleep and then if she's still out cold I'll try and prep some of the food I bought yesterday and then get the dishes done.
Today was weigh in day for The Biggest Loser Challenge I'm a part of (Go Lovely Limes!!) and I was pretty disappointed with a 2 lbs gain. I lost 2 lbs the week before. I know it has a lot to do with the pop I've been back to drinking and since it's been hot and I've been drinking pop I'm not drinking enough water so I'm guaranteed retaining water. I'm not going to lie, I'm going to keep drinking pop for a bit more. I have a family get together this weekend and I'm also almost out of the big jugs for my water cooler. I've told Joe that when I get money on the 20th I'm going to get my jugs of water (I'll be able to get one more before then but no guarantee It will last til the 20th) when I can get a ride across town to get them and then it's back to pop free. I always drop a lot of weight once I get the op out of my system.
I really need to find a way to not cave and buy pop for myself when my jugs get low. It's hard to give it up when I start back on it again. A battle I've been fighting the whole way through my weight loss journey and even before that. Although I am getting better at battling it, one day I'd like to not cave anymore =]
Well here's the pics!!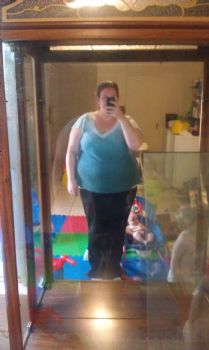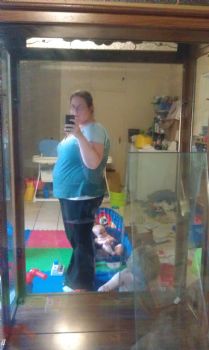 Oh ya!! Almost forgot!! I had a friend from SP add me to a group a bit ago and she's starting that new Focus T25 and she's asked if I'd like to do the program with her. 25 mins sounds much better than the 60 mins of Insanity that I'm almost certain I won't be able to commit to most days at this point. 25 mins seems doable. Try to do it before my bf goes to work each day so that if the kids are being difficult he can entertain them a few more mins to get the workout finished. Now to wait for it to get here!!
Also called my Dad tonight. He's been driving less since he's not comfortable with his vision and driving now. I think it's great that my Dad can admit that he has vision problems. Something I've always believed as a child was that no matter what's wrong you just suck it up and everything will be ok. I now know this is the wrong way to go about things but my parents both are "tough" and don't like to admit when they're not. So this is big for my Dad. He goes to see a specialist in 6 weeks from now. Hopefully it's something they can either fix with some sort of surgery or medicine or drops or something, but he's prepared for good and bad outcomes. Also finding out information about what his options are if his eyes can't be fixed. He said he's probably going to consider selling his house and buying a fixer upper here in the town we're in (he's a contractor and for as long as I can remember he's always bought fixer uppers and then he'd work on them in his spare time til he ran out of ideas for it then he'd sell and buy a new one again - this would be house #3 he's finished), or he just might stay where he is and see if there's anyone who's retired that like to drive people around so that he could still stay in touch =] I told him I was working on getting my debt paid off faster so that we could get a vehicle faster. He mentioned that even if he moved here he'd still keep the truck so that it was available to have for someone to drive around or so that I could drive him places. Too bad it's a truck (and I don't like it cuz it's old and is run down and barely passes a safety), but it's perfect for him for his business since it's his work truck and he's never wanted anything nice since it'd get used just for work for the most part.
Well here I go running on and on again LOL. Looks like Lil Miss is going to stay asleep so I better get off my butt if I'm going to get anything done. And the twins need to get off to bed now too.
Good night everyone!! Thanks for reading my massive ramble!! LOL