Thursday, July 11, 2013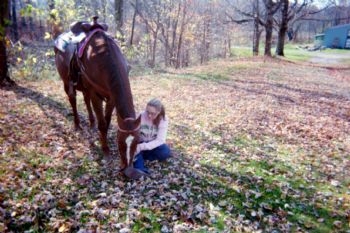 Classy with my daughter last fall.
I have been doing this for 6 weeks, I feel healthier, thinner(a bit) and a little bit more flexible. I was talking with a friend and tomorrow I am going to try to get on my horse. I have not ridden in about 6 years. I got thrown at that time and broke my knee and screwed up the meniscus in about 8 places. I have not been afraid of getting on the horse but I have gained a lot of weight over the last 6 years, close to 100 pounds. I was off work for 6 months and bad habits took over.
I have 20 of those pounds gone, been working out with a trainer at planet fitness in strength training and cardio close to 5 times a week. I feel so much better, more flexible but wonder if it is premature.
Classy is an amazing horse, she is not the horse who threw me. I bought her last year after I lost my horse and foal to an illness after birth. The ironic thing is they caught the illness at the vet hospital after sending them there for something minor. Anyways that is another story but with the money me and the vet agreed on I was able to buy another horse. She is a been there, done it horse. Show, trail and therapeutic and great breeding. My daughter rides her and she is as gentle as anything. My other horse was tempermental and though I really miss her I feel classy is the best horse for me. I am still a little nervous though. My plan is to just get on her and sit in the round pen and I think I will die from happiness. I miss riding, but just sitting on a horse is a big step. I know I am on my way this weight is going and never will I let this happen again. It is just not worth it.