Thursday, July 11, 2013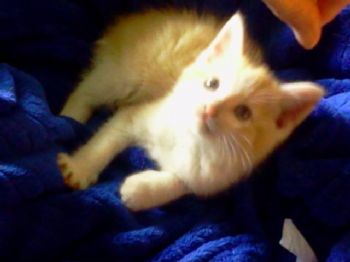 Yesterday we had terrible storms here in Ohio. On my way home which is only two miles I saw 8 downed trees on just one road. Numerous roads were also closed. My friend lost both of their vehicles. My daughter lost both of her flowering pear trees.
In the midst of all of the ciaos is one of joy and happiness. The little kitten you see above is now named Stormy. He was found right after the storm that carried 60 mile an hour winds under my lilac bush. I've asked all of the neighbors locally around me, placed it on Face Book etc. No one knows who this little guy belongs to. I can only assume it's a stray. My dilemma? I already have three grown cats that are making it very obvious this little one is not welcome. He slept with me last night, well let's say we attempted sleep

. My only recourse if I cannot find someone to take him is to place him up for adoption at the humane society which I am not looking forward to. Please pray we find Stormy a home.
Just for kicks: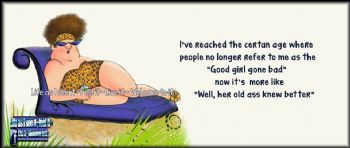 It reads: I've reached a certain age where people no longer refer to me as the "Good girl gone bad" now it's more like "Well, her old ass knew better"

Happy Thursday