The proof is in the pictures.
I realized it going through pictures on Facebook.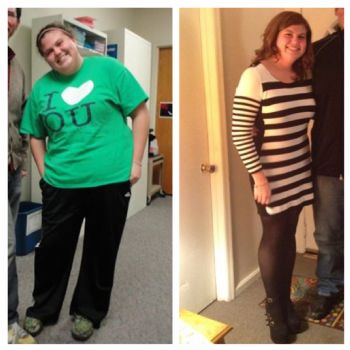 I find it hard to look at old pictures of myself and that makes me sad. I wish I had a super positive mentality and could view them as who I used to be.
But they make me sick. Like physically nauseous.
I think about the fact that the slideshow at my wedding will have to have all these fat pics in them because I was obese for the majority of my relationship with J.D.
I look at these old pictures and it makes me want to cry that I didn't start caring sooner. That I allowed myself to live for almost 10 years so overweight and unhappy.
This lifestyle change is such a roller coaster. I'm proud to have lost what I had, but so disgusted sometimes with who I was. I posted these pics on Facebook without reservation, which means at some point in my life, I had no problem looking like that.
And I just wonder why.
I'm sorry this is such a downer post. If nothing else, it's made me realize that I need to stick with it so that every photo taken of me in the future is something I want to look at and am happy with.
There are going to be good days and bad days. And there are going to be these days when I wish I'd started dedicating myself to a healthy life years ago.
The point is I'm aware now. I know what I can and can't do. I know what I'm capable of and what I can overcome.
And I know that there will never be a point in my life, where I will let myself become someone I'm ashamed of. Weight-wise, action-wise, character-wise.
I'm promising myself that, from this day forward, I will always be proud of who I am.