Wednesday, July 10, 2013
Good morning sparkers. Hope you all are doing well. I'm great. Got my food planned/tracked. I've been into bean sandwiches this week. 1/4 cup of Bush's Grillin' beans on a slice of whole wheat bread served with red pepper and cucumber spears just 189 calories, 1 gram of fat, 6 grams of fiber, and 8 grams of protein. I eat the beans right out of the refrigerator, served on a paper plate, no cooking no cleanup. Easy breezy.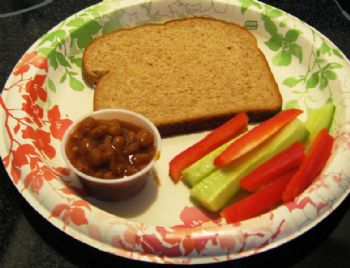 Some time ago I bought these little condiment cups with lids from a restaurant supply store to use for mixing bits of paint for art projects but I never used many of them. Turns out they are the perfect size for dividing up a can of beans. The 22 ounce can of Bush's Grillin' Beans has five 1/2 cup servings or ten 1/4 cup servings which is what I eat and these little condiment cups hold 1/4 cup so a can of beans divides up nicely between 10 little cups.
Today is the first day of the 55+ Female team's split team challenge. You get points daily for exercise, tracking food, drinking water, and eating a meatless meal. Then they have bonus points which I believe change daily. Today you could earn bonus points for posting an article, meditating, and for selecting a couple of different additional exercise options. I have limited mobility so I was pleased to find that some of the bonus exercise options were doable for me.
Even though I had my mind made up that I was only going to do my SparkPeople 11-Minute Seated Cardio Workout Video daily this summer and not try to do any other exercise - today I did two additional exercise videos. The first one was an 8 minute Chair Yoga video and the second was a 3 minute Denise Austin Upper Body Stretch exercise video. That means I did 22 whole minutes of exercise today which I'm pleased about. The Denise Austin one was the hardest for me. At one point she clasps her hands behind her back with outstretched arms and I couldn't do that. The experience made me think that perhaps there is a seated yoga for seniors video that would be doable for me.
I'll be back tomorrow.
Letha