Wednesday, July 10, 2013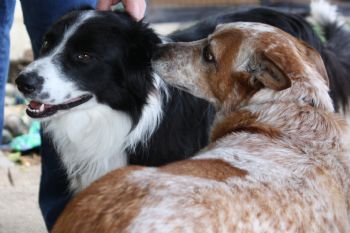 Bentley is a pure Border Collie we found at our county animal shelter, Pictured here with our Autumn a Border Collie/ Australian Cattle Dog cross, Autumn wasn't too sure at first ( this was there second meeting, the first being at the shelter) But they play together and are best buds now. Autumn was so depressed after the loss of her best buddy Tawanda ( a Jack Russel Terrier) It is nice to see her happy again !
Both dogs love our three mile hikes every morning !