Goal Reached With 50 Pounds Lost!

Wednesday, July 10, 2013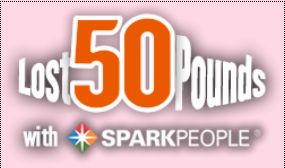 - 312 days since I began my journey to become the healthiest I can be.
- 50.6 pounds lost.
- 21.75 inches lost.
I wanted to do this for myself more than anything I have wanted in a long time. I decided that I was not going to let anything or anyone stand in my way.
I'm still surprised I achieved the weight loss goal that SparkPeople set for me with 39 days still left in the allotted time frame because the weight loss slowed for the last 5 pounds but I kept doing what I needed to do and was rewarded this morning.
I'm still committed to my journey, still going to be doing all the things that got me here.
My Program:
- Healthy fuel for my body.
- Low sodium.
- Portion control with digital kitchen scale and measuring spoons.
- Drink at least 64 ounces water daily.
- Nutrition and Water Tracker each day.
- Move my body.
- Be consistent.
- Focus on solutions instead of problems.
- Practice mindfulness.
- Treat my body with respect.
- Express my feelings as opposed to eating them.
- Support and encourage others.
Onwards to the next goal!