Getting Support from Myself
Tuesday, July 09, 2013
I need to learn how to be my own support and not need/want support from others... not just in getting healthier but in the destressing and organizing aspects of my life too.
I get very little support/encouragement in real life for any of these areas. Not that anyone tries to sabotage me or anything... it's just that no one seems to care. My boyfriend wants to be neither healthier nor organized, and he makes me feel silly if I talk about either around him. The other people in my life either don't have the issues I have or don't respond. I don't get a lot of support on Spark either-- again, mostly because few people respond to anything I post. (My sincere thanks to those who do, especially OLIVIANIGHT! :))
I think my problem is how I deal with this; it's not anyone else's problem, because really, why SHOULD they care about what I'm doing? I need to learn how to be proud of myself FOR myself, and since I'm a Christian, to live in a way that will make God proud of me. I think maybe I'll go back to paper journaling instead of blogging or telling people about what I'm doing. Then it will just be between me and Poof (my stuffed balloon, to whom I address my journal entries... yeah, I'm silly), and God of course. Without putting anything out there, I can't be disappointed at a lack of response... and I'll know I'm doing things for the right reasons instead of for praise from other people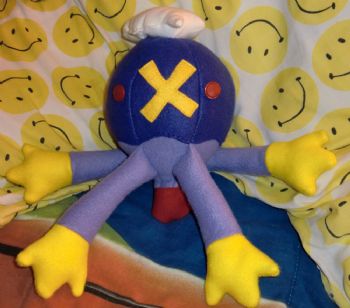 This is Poof :) I almost treat him like my child; I did make him after all!