Tuesday, July 09, 2013
I can't wait - I leave for vacation on Thursday morning!! I'm going to Indianapolis to visit friends. I'm taking the bus from Toronto to the Buffalo airport - I leave Toronto at 7am and should get to the airport by 10ish - my flight isn't until 1:50pm! I then go from Buffalo to Cleveland, OH to change planes and then onto Indy! I'm there until Monday and can't wait to see all my friends.
I'm sure I'll get lots of walking in and as long as the weather is good - some time at the pool but other than that I don't have any exercise planned - which is okay. My friends know I'm trying to eat healthier so meals shouldn't be too hard. I do want to take my friends out for dinner one night as a thank you for letting me stay with them and I'll just have to remember to make good choices.
On a separate note - I was doing laundry last night and forgot my FitBit was clipped to my pants pocket - it took a spin through the washer! Once I found it I tried turning it on and it worked just fine! I was so surprised but so thankful!
Also, it was recently my dad 61st birthday - we had a small get together at his house (he insisted on cooking dinner) with a lady friend of his, myself and one of my brothers. There is a lady I work with who does custom cakes in her spare time - below is the cake she made for me - she was able to do my dads favorite - German Chocolate!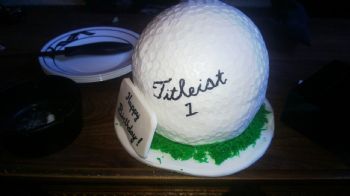 This is the pocket watch my brother got him - my dad has a thing for "time pieces" lol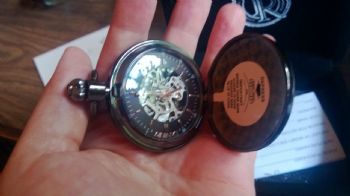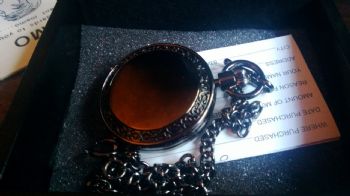 and finally - this is the painting I had done - my dad is holding the original photograph. I was about 3/4 years old in this.
I have an amazing friend who is a painter - I think he did a great job! A lot of people I know think it was too much for a 61st birthday - but I do big things for odd birthdays and keep it simple on the milestones ;) that way they're never expecting it lol For my dads 54th birthday we threw a surprise party!
We really surprised my dad with the gifts and made him cry - which if you knew my dad you would know that NEVER happens!!
All in all it was a good evening with him.