Tuesday when I got home from my exercise Hubby announced that we were heading toward Tobermory. That made for a busy afternoon. He had picked some cherries. I got those ready for the freezer. While I was doing that, he delivered Wiggles to our granddaughters for the week.
I got the fridge cleaned out for our absence and packed my bag. We traveled on the bike so we are limited in what we can carry. We left here about 7. I was driving the car with Buddy. We left the car and Buddy with our daughter who lives about 2 1/2 hours from us. We stayed the night and left when she left for work in the morning.
Wednesday was a nice day. We were doing okay until we noticed a strange 'squeal'. This is Ted on the phone with his mechanic. He called him twice that day.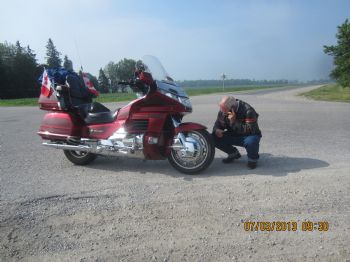 We made it to Goderich. He talked about finding someone to look at the bike but there was no further noise so we didn't look for a bike shop.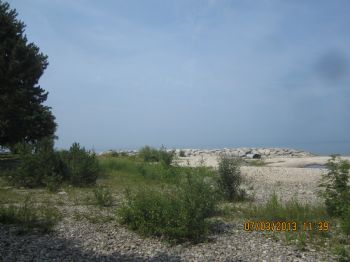 We did come across a nice park and took a short break.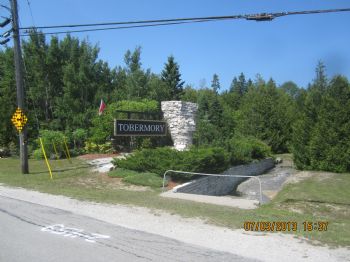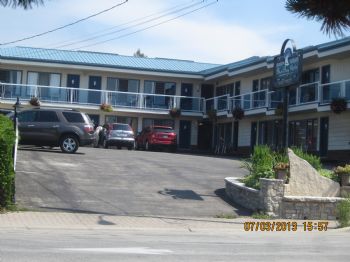 We got to Tobermory with no problems. We booked the last room in this motel. It was a nice room.
Once I was off the bike, I did not want to get on again. We walked the rest of the day. There were lots of shops around the motel.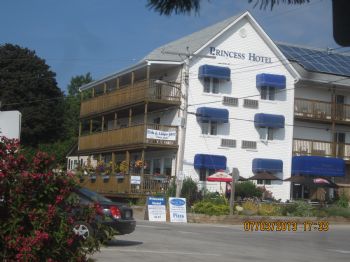 We had fish and chips on the patio where you can see the sign. They were not busy so we had the whole patio to ourselves.
After supper we walked and watched boats and people.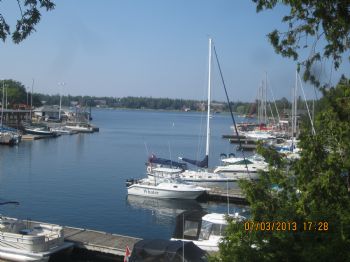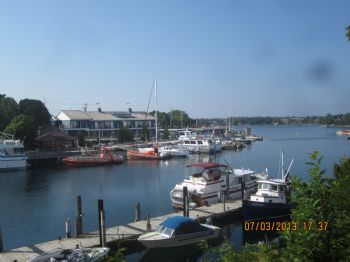 The original plan was to take the ferry to Manitoulin Island. Concern that there might still be bike problems, cancelled that plan.
Thursday morning, we started southward. We stopped in Elora that night.
Friday we woke up to rain. Thankfully, we had our rainsuits. We got back to our daughter's in Aylmer shortly after noon. The rain had mostly stopped by then. Ted found out that neither our daughter or son-in-law would be able to golf with him on Saturday so he decided to head home. We were unsure how long I would stay but I didn't leave until this morning when daughter left for work. The drive home was in good weather. I was home before the black sky returned and the rains came down.
We had a good time away even though it turned out quite different from our plans.