Food And Guilt
Monday, July 08, 2013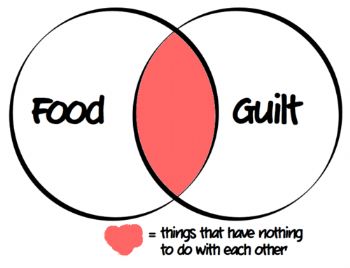 Food is fuel. I eat to live. Not live to eat. There is no "good", "bad", "reward", or "treat" involved - there is simply food.
A healthy lifestyle is about moderation, not deprivation.
Since I want to get the most mileage I can - I am mindful of the selection I make when I fuel-up.
Understand, I take great pleasure in eating and enjoy my food. I am trying my hardest every meal to be mindful of what I am eating so that I am not just shoveling it in and participating in "Emotional Eating".
When I finish my meal or snack, the names of the foods and the amounts get entered into the Nutrition Tracker. That is how I stay accountable to myself.
If using a digital kitchen scale and measuring spoons to portion out my food and then entering it into the Nutrition Tracker or a Food Journal the rest of my life is what I have to do to continue, then I am absolutely, positively fine with that!
Do you have Food and Guilt? What kinds of things are you doing to break the "Food and Guilt" association?