Sunday, July 07, 2013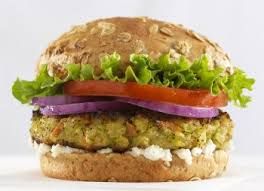 My husband and I try to get out once a week for a quick lunch/dinner date just so that we can sit alone with each other and actually catch up with what is going on in each other's lives. And one would think that since we live together and all of that, that we would be able to discuss things throughout the week. Enter the children. Chaos, busy, and constant interruption. Arrgh.
So, we tried this new place yesterday. Lots o'burgers and seafood listed. Oh, and...... ta da!! The Edamame Burger, which looked a lot like this. It was yummy too! And they also had some really good stuff on tap. Beer is vegan right??

Image courtesy of Google Images.