Sunday, July 07, 2013
I just read a great thread on the message boards about organizing, and it's finally got me motivated again! (It feels SO good to want to do something after several days of bad depression.) With a permanent move somewhere in my future, and a temporary second residence (read: small apartment) in August, I really need to work out a cleaning/organizing system and unload as much clutter as possible.
My first step is to try flylady.net. I've heard of it for years but never tried it... I figure if I'm not organized by now, I need some help!
I'm going to start off with my office area and extra school supplies, since that space will be crucial when my PhD classes start. (Plus I still need to pick out supplies from my stash for fall!) I hope to be more active on the Organized Life Spark Team (AWESOME team!) too.
Here's to getting all my balloons organized and my other stuff downsized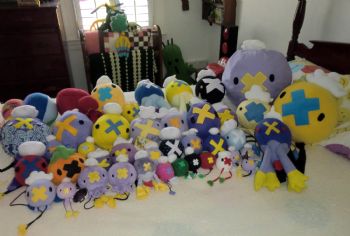 This is my collection of plush balloons! (Minus a couple I've gotten since I took the photo.) I made the majority of them myself... and NONE of them will be downsized! There is no room for negotiation as far as the balloon collection is concerned