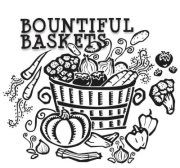 Well I missed one day of my 31 day challenge but that's ok. It was worth it. I spent several hours in a hot kitchen cleaning and cooking some of my beautiful Bountiful Basket!
This is our second week taking part in this produce co-op. (Link below)
www.bountifulbaskets.or
g/
The traditional basket varies each week and cost 15.00. They also offer add-ons that vary each week. This week one of the add-ons was a ''juicing'' add on for an additional 8 dollars.
This is what we got.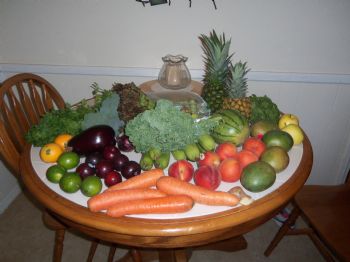 In case you can't see it all, it's.....
Leaf lettuce, 3 stems of broccoli, 2 red onions, 1 eggplant, 7 plums, 7 peaches, 4 mangos, 8 bananas, mini watermelon, grapes, 2 pineapples, kale, parsley, ginger, spinach, 2 oranges, 2 apples, 4 limes, celery, and 4 scary huge carrots!
They also offer some bread packs and I think I may take part next time. Here in my area they only offer the baskets every other week. That works because there is SO much!!
So I spent the afternoon cleaning all of it and cooking some of it.
If you get the opportunity to try this program out I highly recommend that you do it!
Oh and we learned something valuable....we've been missing out buying only baby carrots. Those ginormous carrots had the best flavor! They were scrumptious and they are all gone!
peace~