4th of July Still Lingering On My Body
Sunday, July 07, 2013
Hope everyone had a fabulous 4th of July! As usual, we spent the holiday at our lake house in the Poconos. Thank goodness the rain stopped and we had a wonderful sunny day. Below is a pic of our modest annual gathering. If you can't see me, I'm the one in the black bathing suit!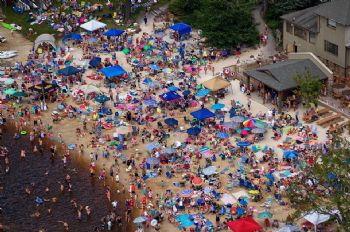 Anyway, this party started at 11am and didn't end till 11pm. I started out thinking that I would have a modest lunch and then later a modest dinner. I also decided to have a few cocktails. Well, everyone brings food to this picnic. And modest foods were not on the menu. Now mind you, I didn't go crazy. However, I did pretty much eat what I wanted. I also picked the very worst cocktail to imbibe in. Pina Coladas!!
Friday morning I felt so sick. My body was not used to eating all that junk and it decided to punish me for it. My scale also jumped up 2 lbs. Now, I know I did not eat 7,ooo calories that day. So, I didn't panic. I know that it's just a temporary weight gain. However, I immediately got back on track Friday morning. Today is Sunday and that darn 2 lbs. is still hanging around!! I highly doubt that my friends and family gained 2 lbs. from their indulgence the other day. Sometimes it's just not fair. I look at these people and I am envious that they can live and eat normally without any consequences.
I know I need to stop feeling guilty about it. We all deserve to enjoy ourselves over the holidays. My sparkfriend, Boilham, talked a little bit about John Adams and Thomas Jefferson in his 4th of July blog. It got me thinking.....do you think our founding fathers had 4th of July parties? Do you think they broke out the hibachis and grilled hamburgers and hot dogs? Maybe Abigal Adams brought some homemade apple pies. And Samuel Adams brought the keg!