So after a fun rafting ride I had scheduled an afternoon horseback ride in the Rockies. I figured for this trip I would pick stuff that I would like making sure that my DD and DH would like it too. Rafting was for the hubby and horseback riding was for the DD (since she has been riding for years).
We had lunch at the rafting place (which did not agree with me and I bloated up almost immediately) then headed over to the stables. I asked for a horse that had 2 speeds, slow and stop since I had not been on a horse in over 16 years since I sold mine to buy a house. Well, that's what I got, Domino. He basically only had one speed, super slow and for the most part that was ok.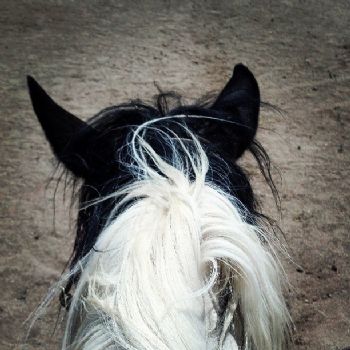 My DD on her horse Patches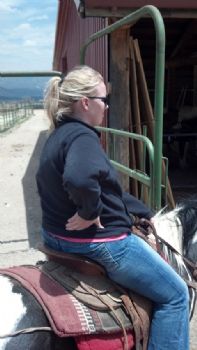 Hubby even had a good time on his horse Apache.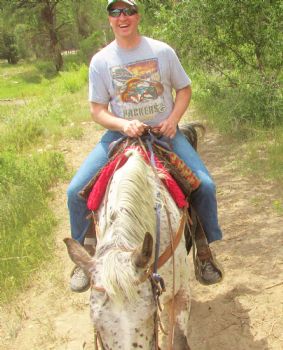 This was a beautiful ride and so peaceful. Just you, the horse and nature. The DD and the guide talked a bunch since they both ride a lot but for me and the hubby, just nice silence.
We went up to some ridges and back down some ridges and through some creeks. I did have to put full trust in the horse since parts of the trail were really rocky and narrow. Kept saying to myself that the horses first instinct is to protect himself so he would NOT fall 200 feet into the valley below. He has taken this route so many times he knows where he is going.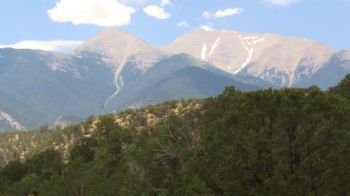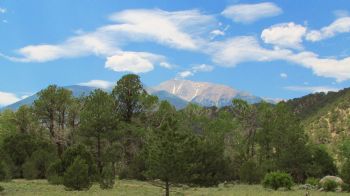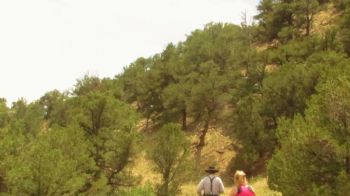 Went up this ridge
One of the creeks that we went through.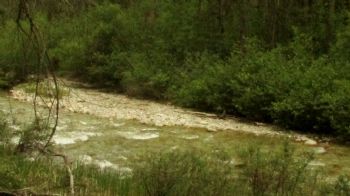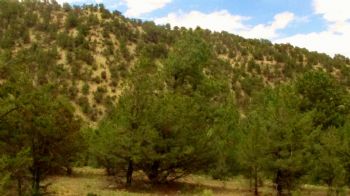 It was a great ride but was glad that it was only 2 hours. By the time we started heading back my right knee was killing me and I think it is something genetic. My daughters right knee was bothering her too and my mother says that when she rides, her right knee bothers her too, go figure.
I would highly recommend this day trip to anyone but especially to my MN spark buddies with kids since it was a blast.
Then to top off a great adventure birthday, I wanted to try a Brazilian Steakhouse for my birthday supper. Denver had 3 to choose from but 2 were downtown and I just did not want to mess with that so we decided to go to Texas de Brazil
texasdebrazil.com/
. If you have never heard of this kind of steakhouse, they have about 15-16 kinds of meat that are slow roasted over open flames called rodizio style and gauchos come to your table and carve you off a slice of meat to try.
OMG a carnivores HEAVEN. They did have an appetizer bar that had some great stuff on there but I was there for meat and meat I ate. Filet Mignon, pork, bacon wrapped chicken (this was just ok), lamb chops (YUMMMMMMM) and then the best meat I ever tasted........Picanha, It was a season crusted meat that was so flavorful and tender it almost brought tears to me eyes. I cannot remember how many different kinds of meats that I tried but the hubby started to get the meat sweats and the daughter waved her white napkin that she was done and I just ate till I was full, not stuffed, just nice and full.
This was not a cheap diner but hey, it was my 40th birthday and we just spent a day rafting and horseback riding and I deserved it. Best meal I have ever ate.
So that's how I spent my birthday. We slept in the next day then went to the Denver Zoo since that was something that my SIL likes to do. It was just a little sad that she cannot really walk around the zoo or anywhere for that fact and we had to push her in a wheel chair. I vow to NEVER get to the point that she is at unless I am like 102, not 62.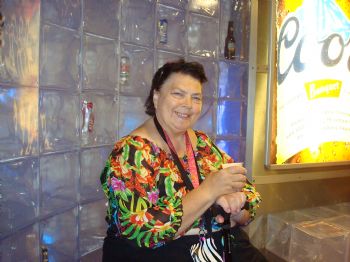 Next blog.....my favorite adventure of the week....biking down Pike's Peak. Let's just say, I was in HEAVEN!!!!!!