Back home in Colorado
Saturday, July 06, 2013
After 5 days of travel, shopping in Tucson, staying with friends in the AZ desert and making our way to Colorado we are back home.
The lake is very low and our lake view is now a beach with green growth view but a tiny trickle of river going through it.
It is good to be back here and everything felt instantly familiar. There are a few hiccups, like the water pipes to the washing machine either froze or perished and we had a small flood when I turned it on, and rapidly off again!
My weigh-in was something I dreaded, looking at my tummy I expected a decent gain but I was pleasantly surprised - 136.1 :) less than half a pound! That means only 1.2 to get back to my goal weight (I was up a little before we left - goodbye dinners etc) and less than 2 to my posted weight.
We stopped for groceries on the way home and I got most things except for my breakfast staples: flax seed and chia seed - the store didn't have it. I'll get some next week when we are in Pagosa or Durango and get to a health food store.
My breakfast this morning was a Trader Joe's (LOVE that store! nearest is 4 hours away) Green smoothie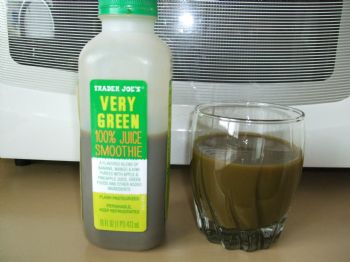 It tasted much better than it looks :) Almost like apple juice, a little too sweet for me but in the absence of my usual breakfast it was fine.
My friend in AZ grows her own veggies and I had a cooler full to bring back - I'm looking forward to kale, chard, salad greens, zucchini and squash. YUM!