Thursday, July 04, 2013
Good morning sparkers. It's another lovely day on the Washington Coast. If you are in the US, happy 4th of July - and to everyone else, have a most excellent day.
Got my exercise & food tracking done this morning. I've been posting on my team forum boards, reading friend blogs, and doing spark coach.
Yesterday the spark coach asked me to print out and sign a spark pledge. I don't know if this is just a spark coach thing or if it's suggested throughout spark people's reference materials. I did it. Printed it, signed it, cut it out with pinking shears, glued it to a bit of scrapbook paper, and hung it on the wall with a clip.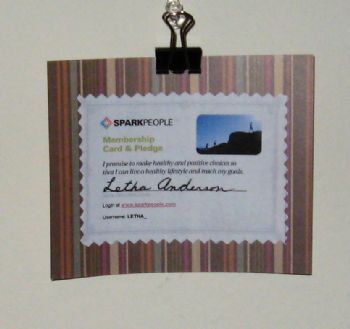 If you can't read it from the photo, it says "I promise to make healthy and positive choices so that I can live a healthy lifestyle and reach my goals." I'm not the kind of person who is drawn to positive affirmations or visualization exercises but what I was doing wasn't working so it was time to try something new. I'm throwing everything against the wall to see what sticks.
Anyway, no big plans for the day. My partner is working this evening but I live in a county with a very lax firework policy so I'm sure my neighbors will keep me entertained with their shenanigans into the wee hours of the morning. I'll be back tomorrow.
Letha