Went for my first open water swim in my wetsuit and WOW, what a difference. I trained really hard in the pool and in short, said training really paid off out in the lake. I got invited to an informal group swim with some people training for the Teal Lake swim which will be on July 27th. The event is a 2.25 mile swim for diabetes and there will be an Olympic Gold Medalist there participating as well.
I giggled hysterically when I got in and started to bob around like a cork as I didnt know what to expect. Everything was so perfect. The fit, the support, everything. It took me a little bit to get adjusted to the new dynamic and realized that the breast stroke is out for use as a secondary stroke to switch to from the crawl. The flotation of the suit made it almost impossible to kick with my legs without thrashing.
What they guys were telling me was to just simply use your arms and drag your legs behind you. The swim becomes entirely upper body and your legs dont hardly get used at all. talk about energy savings for the rest of the race. I can really tell that this suit will be a game changer. I felt like I was literally flying through the water.
As a group we did between 1.25 and 1.5 miles then after a short break where we discussed technique and had a good laugh about the whole thing, I went back out for another mile. It sounds like alot but it was so easy it was almost cheating plus the weather and water was as perfect as you could ever want it.
I was having the time of my life.
Moving around the weedbeds I had to pause and watch the fish. Man, it was like Animal Planet. They had NO fear of me whatsoever so long as I didnt lunge toward them. Even saw some really nice bass as well. I love aquariums anyway and this was awesome :).
I am seriously considering doing the Teal Lake swim. We have 2.5 hours to complete it and there is full support, safety kayaks, canoes etc...
teallakeswim.com/
I feel %110 at home in open water. I had no issues swimming in 30-40' of water, if anything it added to the epicness of it all. They meet every Wed at 6pm so, with the exception of my night shift, I'll be going to every one of them. I cannot stress enough how EASY it was as opposed to pool swimming and yes there was a chop in the water and yes I did swim against the chop on my way back. While it did make sighting a little more of a challenge, it was way easier to me than pool swimming about as much as a treadmill compared to running outside.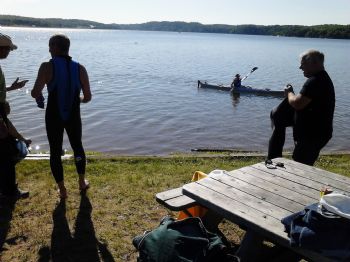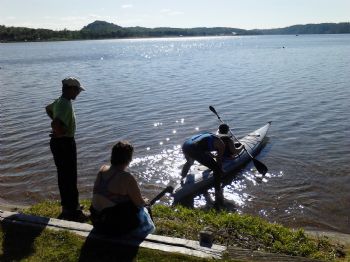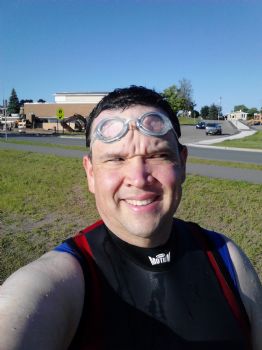 I had an insanely good time and even for all of the mileage yesterday, I am not sore what so ever... - awesome :)
EPIC