Wednesday, July 03, 2013
We've all done it, started a diet only to let it slip by the wayside before seeing real results. I have done that so many times I'm not even going to go through the motion of saying this time will be different.
A little over a year ago I sat here full of hope, the weight was beginning to drop off and I was enjoying exercise again. Newly engaged I was looking forward to starting a new life and getting married. Then one awful August night my fiancée had a seizure and ended up in intensive care. He had an inoperable aggressive brain tumour. Nine months of caring for him at home later he died in my arms on Sunday 5th May. We did get married, a quiet ceremony with a few friends and our time together will always be precious.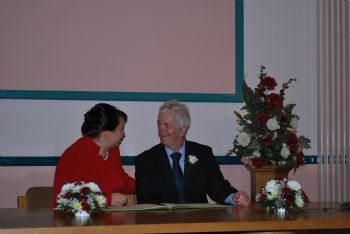 So now I am a widow and striving to build a new life yet again, this time alone. I am lucky to be surrounded by good friends and family. None the less I miss him every day. Medically retired seven years ago because of a rare heart condition I spend my time volunteering for local charities and will be starting a part time History degree this September. I have so much I want to do, its time to make doing it easier by losing the weight I carry around each day.
I am very active, despite my condition. I sail, kayak and walk miles with the dog. This week I have taken a months trial membership at a gym to try adding that to my routine too. We will see if I have the time and interest to use it.
I have a friend of a similar size who has been told to lose two stone before a knee operation later in the year. We went and joined a well known slimming group tonight, ensuring we get weighed every week. I have enjoyed using Sparkpeople in the past and hope that doing both will give me all the motivation I need.
I had a healthy breakfast and cooked pasta pie and salad for my friend and I for tea, followed by strawberries and yoghurt. A brisk walk with the dog for a few miles rounded things off.
So day one has got things off to a good start, tune in soon for the next instalment.