Wednesday, July 03, 2013
A few months ago, I went to a CAbI party. If you don't know what that is, it's like Pampered Chef, or Stella & Dot, or Tupperware, but it's clothes. Expensive, but really great quality clothes. I have been to several ove the years, and the hostess never seems to have big girl clothes. She tops out about about size 10. They make the clothes in larger sizes, but she tends to not carry them. So, this last time, I took a chance and bought this super cute top: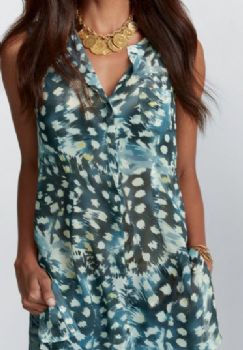 All she had was a medium, and it almost fit, so I got a large.
Well, when it arrived, I put it on and discovered that it wouldn't fit over "the girls". It's a common story with me. Hmph. So, it has just been hanging in my closet.
Today, after a week of walking/exercising/moving my bod, I was able to BUTTON IT OVER MY CHEST!!!!!!!!!!!!
WoHoo!!! Victory Dance!
It's a little thing, but one that makes me feel pretty darn good!
Have a safe and happy 4th. Not sure if tomorrow is a blog day or not... depends on how much like a holiday it feels...