It's gorgeous on the SW Washington coast this morning. I got my vitamin D drinking my coffee in the sunshine on the deck. Lovely warm breeze, birds singing, wind chimes tinkling softly. One of the nicest mornings of the year I'd wager. It's put me in a decidedly good mood.
At the suggestion of a spark coach video I've been pondering my interim goals. It's hard to calculate my potential weight loss because I think most formulas were designed for people who are significantly smaller than me. The formulas assume an infinite increase in Basil Metabolic Rate where I suspect the rate of increase may taper off beyond a certain point. So to lose at a "safe" rate of 2-3 pounds per week most calculations give me a calorie range between 2500 - 2800 calories per day to start and I can guarantee you I won't lose any weight eating that much. Plus I've got edema which can cause a dramatic loss like the 9 pounds I dropped last week.
So, just for the sake of consideration, let me project my weight loss at a rate of 2.5 pounds per week. At that rate it would take me 40 weeks to lose 100 pounds. My weigh in last Friday was 509, so I could make my first interim goal to drop below 400 in 44 weeks. This is week 27 of 2013, I've got 25 weeks left this year and so it would be week 19 of 2014 or the week ending May 11, 2014 to reach that first major goal. Add another 40 weeks to lose another 100 pounds and that brings us to the week ending March 1, 2015. And Another 40 weeks brings us to the week ending December 6, 2015. I had listed 175 lbs as my ultimate goal. I'm 5'11" so a healthy weight range is 143 - 179 and I figure I'll be carrying around some extra skin so I think I'll stick with 175 as my ultimate goal.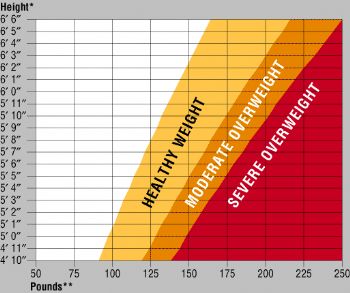 Continuing with the same calculations, to lose that last 25 pounds would take 10 weeks and bring us to February 14, 2016.
So using these calculations my interim goals would look like this.
Under 500 pounds by July 28, 2013
Under 400 pounds by May 11, 2014
Under 300 pounds by March 1, 2015
Under 200 pounds by December 6, 2015
Goal weight of 175 by February 14, 2016
Looks like I could potentially be at my goal weight before President Obama leaves office. I'm not exactly sure how realistic these goals are but I'm going to add them to my side bar anyway. Time will tell.
Letha