Since I started Spark, I think the one habit I've really been able to stick with is fitness. I LOVE working out and working out hard. I love being active. I know I will be doing this the rest of my life. And while yes I am working towards a better body looks wise and to drop weight, that is not why I work out. I work out because I enjoy being an athlete. I enjoy pushing my body and seeing what it can do, and I love the feeling after a good hard workout. I'm hooked on working out and that's no secret.

So since I have that area of my life in place, I really need to focus on my diet now. I eat healthier than I ever have before since joining Spark a year ago but I have the worse sweet tooth, and I have really gotten bad about eating junk sweets (think cupcakes, brownies with icing, pastries, whatever and whenever.) Yes, this is why I can burn a 1000 calories in a day and still not drop any weight. I eat them all back and more! I find it a successful week when I don't gain any weight after all the junk I put in my body.
Well, this week has been kind of a wake up call for me because my step dad got diagnosed with pre-diabetes. He has a sweet tooth just like me. He's also very active. He has a hot oil truck business and does manual labor outside all day 6 days a week. Only takes a day off on Sundays and even those days, he sometimes spends outside working in his shop or working on the yard and stuff. So physically, he's fit. He is overweight but not obese. And seeing this, I can see my future. I can workout all I want to but if I continue to eat the way I have been, I will probably end up with pre-diabetes or full blown diabetes too, and I don't want that.
You just can't outwork a bad diet. So onto the challenge. I started this yesterday actually and was successful despite having 4th of July cupcakes in my house! *Woop Woop* *Holla!* Ok, I'm sorry, I know I'm obnoxious. :P
So I want to go 30 days with no white sugar at all. I'm also going to try to limit the processed foods that I eat. So why 30 days? Well, I'm trying to form a new habit, and I believe it takes something like 27 days to form a new habit so I thought 30 days would be perfect. Also, telling yourself you can never have something again is probably a recipe for disaster or it is for me. I'm hoping that by the end of the 30 days, I will have formed a new habit and kicked my addiction to sugar. And that I will be able to actually have a bite of cake or a half a cupcake and call it a day. You know everything in moderation. In all honesty though, I don't even know if I will go back to white sugar. It's just bad. But right now I'm saying no to all of it!
So if you want to join me that would be awesome! We could update how it's going on our blogs and help each other out if we're having a tough day. I even made a little graphic using picmonkey. So if you want to join me, then let's do it!
NO WHITE SUGAR FOR 30 DAYS!
And we will kick our sugar addictions to the curb for good!!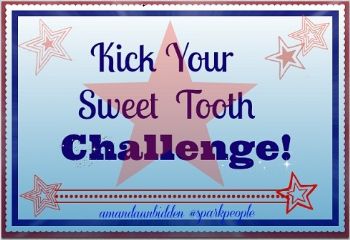 And if this is already your life, as I know a lot of Sparkers have already givin up the sugar, then you can just give us advice on how you did it! And cheer us or me on! :)
So that's my challenge for myself and anyone else that wants to partake. Let's make July great!