potatoes, peas, carrots
Wednesday, July 03, 2013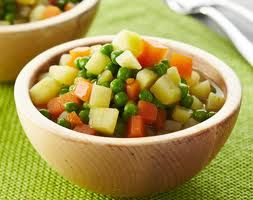 saute onions in olive oil, add cubed potatoes, frozen peas and carrots, add water, cover in a pot and cook till tender
I started out looking up the word "Jardiniere" which was described as a spring French mixture of vegetables.
this led me to a zillion different recipes. But th eone above was simple. I can handle this.
Other recipes had maybe 10 different vegetables and vinegar and it looked like canning was done to preserve the vegetables.
There were several sauces for pouring over meats or vegetables.
I got a bit confused!!!! But the one simple recipe seems to fit my style.
Chris