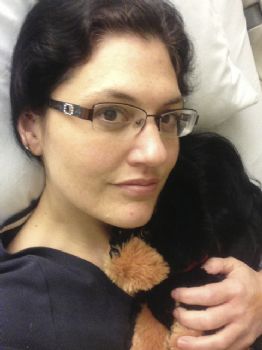 Although I still owe a story of Ghana, I am going to quickly catch you all up on what has happened in the past 2 weeks as it has been quite a difficult journey to where I am now, and will likely change my journey ahead.
In short, I have been very ill. I am finally home today, but still have a long way to go until I feel healthy again I suspect. I have severe acute pancreatitis and have recovered from shocked liver. Pancreatitis is usually caused by alcohol (I rarely drink) or gallstones (I had my gallbladder out in 2010, interesting blog about it back then if you are bored and looking for an interesting read about unexpected complications of gallbladder surgery...) Although they spent a week doing tests with 5 consulting teams (GI, Plastic Surgery, Orthopedic Surgery, Infectious Disease and Trauma Surgery) it is still not entirely clear what happened. Here is a brief version of my best guess:
I like to cycle - anyone who follows my page knows this. Hell, I *love* to cycle. I also like to take pictures of myself cycling.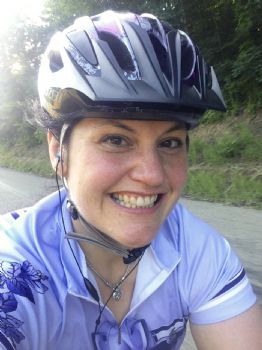 This picture in particular was taken on one of my favorite country roads. Like an idiot I was cycling relatively fast (20-25 mph) while taking this picture and didn't realize how close to the road edge I had gotten. As the cycle wheel slipped over the edge, I corrected left, but too late. I tried to get out of my clipless pedals, but no luck - I was wearing brand new shoes with brand new (tight) cleats. Yup, because I have become complacent about safety, I rode my left knee into the ground, still clipped into my cycle (weak of stomach should skim over the next few photos):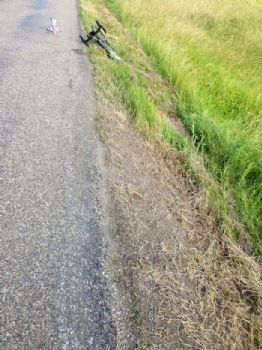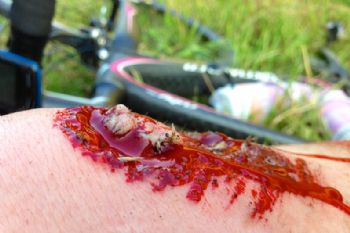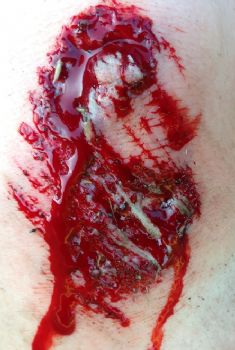 I got unclipped once the bike stopped sliding and called for a ride. I grit my teeth and sprayed the wound on my knee with the two bottles of water to get some of the initial dirt, rocks, pebbles and grass out.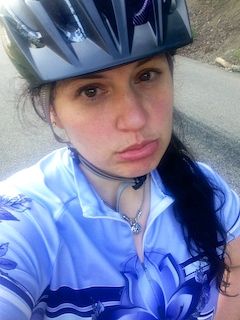 As an emergency physician I knew this laceration was deep enough to potentially go into the knee joint (an emergency that requires surgical washout) so I went to the Emergency Department to get a methylene blue injection (injected straight into the knee joint, you see if blue fluid comes out the laceration)
Yeah, that is just as fun as it looks - I cried during the injection - it was one of the most painful things I had experienced to that point...although compared to the rest of the week to come...it was a walk in the park
Got sutured and went home on antibiotics and some mild pain medications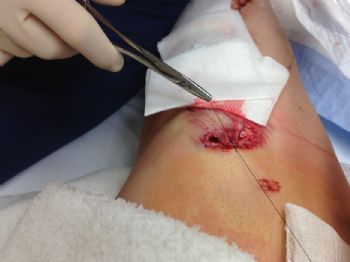 The next day, I actually added a few sutures to an area that had opened a little deeper. I did this with no lidocaine or analgesic, so I know my pain tolerance is pretty good :-)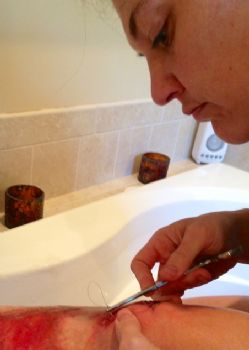 All day I had been feeling nauseated and having sharp stomach pains - I attributed it to the antibiotics and pain medications, but didn't make much of it.
The following day was when I became very ill. I was at the medical school lecturing when the pain became so intense it took my breath away. Like a sword going through my stomach and into my back. I started to black out, heart rate and blood pressure low. That's when I knew there was something really wrong.
The rest happened quickly. The Emergency Department is directly downstairs from where I was teaching. It did not take long to confirm my suspicion that I had acute pancreatitis and I was admitted to the hospital for classic treatment: IV morphine and zofran for pain and nausea, IVFs and nothing to eat for several days so that the pancreas can rest. The first day was a haze. Given the pain I remember that is probably a good thing.
The second day in the hospital I learned that I had a "shocked liver." This is one of the complications of severe pancreatitis and blood pressure being low. It may also have been from the trauma or from liver toxicity from various medications including the antibiotics I got. My hematocrit dropped 6 grams, my albumin and total protein bottomed out and my calcium dropped. Those of you who are medical know what that means. I was really ill. Multiple Cat/CT scans were done to find out if there was anything else like internal trauma causing these symptoms. Late that night I was in the MRI machine for more testing including an MRCP to look for an obstructing stone since my labs were so worrisome.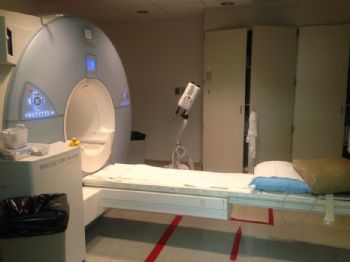 What they found was not a stone, but a "pancreatic divisum" - I know, silly big medical words. What it means is that when I was a fetus, my pancreas didn't fuse correctly leaving me with two ducts instead of one, which is a rare, but major risk factor for acute (and unfortunately recurrent) pancreatitis. So why now, at age 42? The GI and trauma specialists think that the trauma of the accident combined with high dose antibiotics shocked my system enough to create an inflammatory cascade causing my pancreas to start misbehaving. So there is the best guess - does it explain everything? - not perfectly, but I can live with that.
Luckily, my shocked liver healed (the liver is resilient and I am healthy). It is usually an all or nothing phenomena with acute hepatitis - it heals or it fails. Mine healed. After 4 days in the hospital with nothing to eat, frequent vomiting and excruciating pain I was allowed to try some fluids. Not very successful the first day (popsicles and jello luckily taste good going down or coming up) but after two days I was able to keep some fluids down. By the time I left the hospital I graduated to bland solids - crackers, toast with jam and soup.
So here I am at home. Still having pain but lucky to be doing so well and a little better every day. No exercise for awhile unfortunately. Pancreatitis is a catabolic state (body breaks down) and I am exhausted and amazingly deconditioned for only 9 days. Plus, there is my knee. Debrided by plastic surgery, with possible patella (knee cap) fracture followed by orthopedic surgery, I can limp but cycling, elliptical etc (even the pool) is out of the question until this heals, and that may be awhile.
So patience...
Patience will be key this month, and logging and being accountable for every calorie.
I will try to balance being a bit more active every day with putting my health first and not overdoing it.
No alcohol. None - it's not worth risking a recurrence and a 100% low fat diet (not just most of the time, like what I usually do).
I am grateful for my health, and that I am healing quickly - likely because I was so fit and in shape
I am grateful that pain is all that I have now - I can deal with pain
I am grateful for my friends and family who sat with me while I writhed in pain and vomited more times than I can count. I think it was harder for them than for me some days.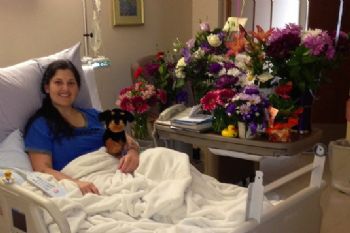 (Pain controlled for a moment by lots of morphine - happy for the flowers, balloons and love of good friends)
Finally, I am grateful that somehow I managed to be cheerful through most of it - one of my friends said severe pain brings out our true character- I hope that is true.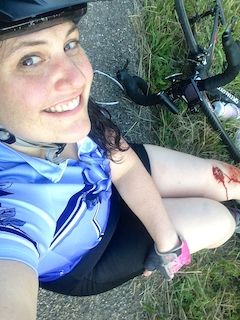 If you have made it this far, thank you for listening. It was a long, painful and at times scary week.
I am happy to be home and yes, I will be back on my cycle in no time -stronger mentally while I become stronger physically.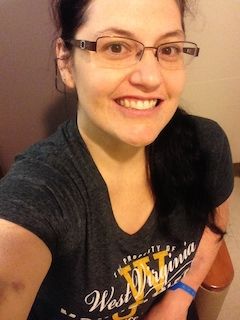 Leaving the hospital...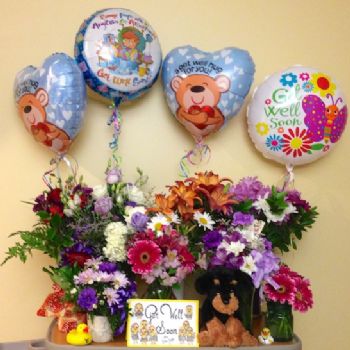 Thank you to everyone who has or will support me - love you all!