Tuesday, July 02, 2013
Today after briefly checking in on the folks at 300 plus, and more specifically my team in the current Biggest Loser challenge within the 300 plus team (The Sunset Sparklers), I saw them post about secrets for success. I loved an idea I saw someone speak of. A paperclip for each pound lost, made into a chain. I liked that for when at home, but I couldn't visualize that helping me when I'm not there at home seeing it. I ran with the idea and came up with this..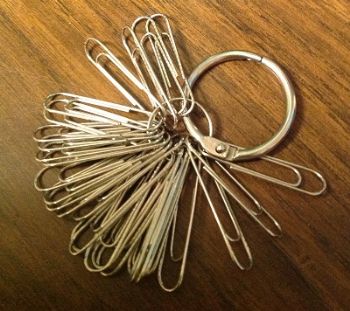 I could have put the clips directly onto the main key-ring but given the amount of weight I need to lose, that wouldn't work when I'm nearing my final goal. Instead I chose to add them to a smaller ring, that is then added to the main one. I'll add a new small ring after I've reached 50 paperclips (50 lbs down) and so on. This way I can carry a reminder of my weight loss with me on my keys etc. Will it be noticeable, yes, probably, but that gives me a chance to talk about healthy choices with those who ask.