I'm sitting down. I've been kinda of crazy the last two days and only managed to finish two things.
First, I bought paint to paint my office and my bedroom in May. Yesterday, Monday, July 1st I finally painted the accent wall in my bedroom.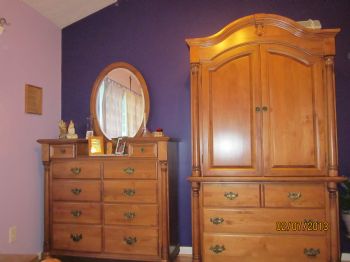 My room was all lavender, three walls a slightly deeper shade than the fourth. The reason was the white woodwork and the curtains did not stand out against the lighter shade but I had already finished a wall + in that color. BTW this was almost seven years ago. Well I was bored with the lighter shade and I found some PURPLE. Now the lightest wall of my room is the darkest! I love it, it's a big room with vaulted ceilings so I won't feel too closed int.
Secondly, my youngest is doing his Active guard duty leaving his wife and my beautiful granddaughters (terrible 2 & 1 month) at home, so I promised I'd help out. Monday I made pork chops, Salade Liègeoise and cut up a quart of strawberries to go with the small container of vanilla ice cream and drove dinner over 45 minutes away. I hope I was a help to my DIL, she's suffering from postpartum depression. Erik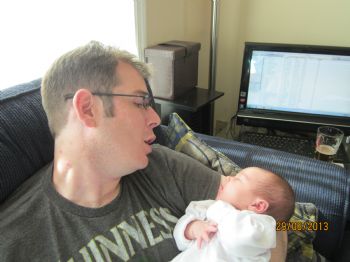 and I went over Saturday and Monday and we shared the meals I fixed and played with the girls.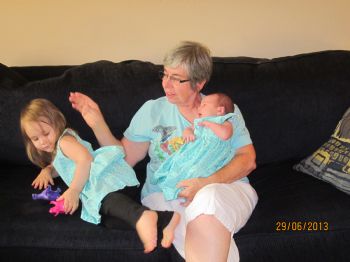 .
So painted a vaulted wall-2 coats, shopped for and fixed dinner for 4, drove round-trip about 45-55 minutes each way, loaded the dishwasher played with a cantankerous two year old, took her for a walk and rocked a month old fussy baby. Man I was bushed last night.
It was also my fourth child's 36th birthday, so Erik and I called him and serenaded him for the occasion.
I'll write about Tuesday later-I'm not done yet!